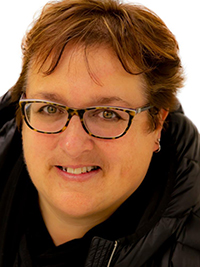 Michelle Tymchuk
Passed Away
October 2, 2021
Moosh, Mitch, Michelle….everyone's Hockey Mom are all the many ways that we remember Michelle Corinne Tymchuk, whom we sadly lost on October 2, 2021. She was a unique soul who is remembered for her many gestures of kindness towards her family, friends, and her hockey family. She lived a full life.
Moosh is remembered for many things but especially her unending support for family and friends. On many occasions Moosh would stop what ever she was doing to accommodate her needy brother Tim and her nephews Tyler, Bret, and Troy. In the late hours of the night or early morning hours she would make time to pick up "items" for Tim and the boys, be the DD to a party she wasn't invited to, or drive the boys to Calgary for a Bachelor party.
A second mother to her nieces Tayler, Tara, and nephew Cody, she was the one to make Friday dinners the hardest decision in the house. They remember her for taking them to concerts and winning almost all contests she entered into. Her sister Karen's weekend trips to "Costcos", "Safevays", "Save-ons", "Walmarts" will be one less without Moosh, literally, the sisters went shopping every weekend. And as Baba's baby, Genevieve will miss the many couch cuddles and her boisterous nature.
She dedicated her time not only to her family, but also to her work family. She worked tirelessly for 21 years with Edmonton Public Schools and is remembered fondly for all her many contributions. Inclusively, as a hockey manager for more than 20 years, the hockey community will surely mourn "everyone's hockey mom" and her attention and care to her "kids".
She was selfless, assertive, giving, kind, strong willed, stubborn, supportive, compassionate, thoughtful, reliable…she was the anchor for the Tymchuk mafia and it is with a heavy heart we say, until next time.
She is predeceased by her father Wilfred and survived by her mother Genevieve; siblings Deborah, Karen and Timothy; and nieces and nephews.
Celebration of Life (Due to COVID restrictions, attendance will be by invitation only)
10:00AM Friday October 15, 2021
Trinity Funeral Chapel
10530-116 Street Edmonton, AB
Livestream link: https://youtu.be/uq8-pqvE6O4
Memorial Donations
Second Chance Animal Rescue (SCARS) in the name of Michelle Tymchuk
Box 3045
Athabasca, AB T9S 2B9