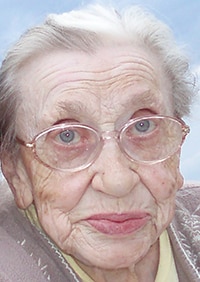 Mildred Dosser
We are deeply saddened to share the news that Mildred Dosser passed away on November 2nd at the age of 95, surrounded by family. She leaves behind her sister Margaret, daughter Patricia, sons William, Ronald, Reginald and Robert, and her many grandchildren and great-grandchildren. She is predeceased by her parents, her husband Gordon, her sister Marie and her daughter Terry.
Mildred was the second daughter of Minnie and Charles Mitchell. She was born near Lacombe, Alberta and grew up milking cows and riding horses to school. During the Second World War she served as a civilian worker in the Air Force and met her husband Gordon. She worked as a unit clerk at the University of Alberta Hospital in Edmonton for over 25 years, where the doctors considered her indispensable. In the later years of her life she retired to Morinville, Alberta where she lived with her daughter Patricia and granddaughters Hayley and Alexandra.
She saw the world change dramatically during her lifetime, never lost her strong-willed character, and will be greatly missed.
Funeral Service
Friday November 16, 2018 1:30PM
Trinity Funeral Home Chapel
10530 116 Street, Edmonton AB