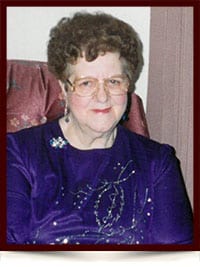 Muriel Kathleen Lafond
Muriel K Lafond, April 2, 1923 – November 1, 2016. A long-time resident of the Edmonton area, passed away at the age of 93. Born in Wimbledon, England.
Pre deceased by her husband Jimmy James Lafond, Son Marcel Lafond, grandchildren Tracey Proulx and Holly Laviolette.
Survived by her sons: Peter (Lillian) Dawn (Dale), Cheryl, Curtis and Jessica; Micheal (Loretta) Jimmy, Jennifer (George), Zandra (Corey); Daughters: Joyce (Fern) Darryl; Brenda and son Dean; Sanrda (Mark) Misty, Zarina (Scott); Maureen (Bob) Rebecca; numerous grandchildren and great grandchildren.
At the tender age of 22 she married James Lafond and came to Canada as a war bride. A proud mother and home maker she kept children together and raised them to the best of her abilities. Muriel loved good food and socializing, enjoyed going to movies, and had a wonderful smile. You could always pick her out in a crowd by her red curly hair and her red lipstick.
 Celebration of Life
Saturday November 5, 2016 2:00PM
Trinity Funeral Chapel
10530 116 Street, Edmonton AB