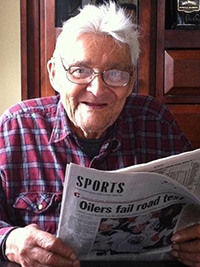 Napoleon Callihoo.
It is with heavy hearts that we announce the passing of a beloved and wonderful man: Napoleon Callihoo.
Napoleon died just shy of 102 years of age on Monday, November 26, 2018, at Shepherd's Care, Kensington in Edmonton, Alberta.
Napoleon was born on December 7, 1916, in what was then the Michel Band reserve near Villeneuve, Alberta. The fourth of eight children of Adolphus and Christine Callihoo, Napoleon worked extremely hard his entire life—from the family homestead, to a cattle ranch in southern Alberta, to the railroad and many other places. He enjoyed and was deeply proud of this work, taking great pleasure in a job well done and routinely the first to offer help to anyone in need with any task, no matter how hard.
A proud Métis man, Napoleon loved to square dance, listen to fiddle tunes and Country and Western Music and to dance the Red River Jig, winning competition prizes even into his late 70s.
A devoted son, brother, dad, grandpa and friend, Napoleon was dearly loved by many for his kind and generous nature. He was also a mischievous man who liked nothing more than to laugh and would pull any prank he could get away with.
Napoleon's greatest pride were the children, grandchildren and great-grandchildren he was blessed with. An avid reader and fiercely committed to education, he would do anything he could to support and encourage his family to pursue their dreams. He was tremendously proud of his family's educational accomplishments and would tell anyone who would listen that he counted among his family, lawyers, social workers, engineers, teachers and more. Having attended residential school himself, he regarded this legacy as the most important one of his life.
A born storyteller and blessed with a remarkable memory until his last days, Napoleon was a respected elder who gladly served as family and band historian, vividly and accurately recounting the changes he witnessed over the 100-plus years he was fortunate enough to see.
Napoleon had a deep and abiding faith in God throughout his life. His simple conviction in his faith was often a comfort to others and he regularly joked in later years that God had forgotten to call his number, but that he would be happy to be called home and into the company of the loved ones that had passed before him. The family is comforted by this knowledge.
Napoleon will be deeply missed.
Napoleon is predeceased by his parents and siblings and wife, Violet Parris. He is survived by his daughters Shirley Parris-Kroon (Maryann); Leona Callihoo-Pearson (Barry); Celesti Callihoo (Rene) and Nella Sajlovic along with grandchildren Marie Pearson (Brian); Bree Tetz (Jason); Tracy Hornick (Jason); Troy Unger (Patty); Tyler Unger (Natalie) and Luka Sajlovic. He also leaves behind many great-grandchildren and one great-great grandchild.
A funeral mass will be held on Tuesday, December 4, 2018, at the Sacred Heart Church of the First Peoples (10821-96 Street) at 10:30 am. A reception will follow at Trinity Funeral Home (10530-116 Street) at Noon. Interment will be at St. Peter's Cemetery (Villeneuve, Alberta) at 2 pm.
In lieu of flowers, the family asks that donations be made to St. Peter's Cemetery in Villeneuve, Alberta.