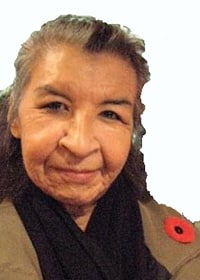 Nellie A. Gaffney, "Alvina"
A beautiful soul has left this world and is onto a new world beyond:
Nellie A. Gaffney, "Alvina".
She was born November 8th, 1946 on a trap line on the ice of Lake Athabasca and despised the cold ever since. Alvina was a dear, strong woman - a residential school survivor, a stroke victim, a cancer survivor - she saw many hardships on her life journey but met each one with great tenacity. She passed away May 13, 2020 after a long fight with complications stemming from colon cancer and is now able to Rest In Peace, free of pain, and lovingly remembered by many for her beautiful smile and playful humour.  She was an independent woman who enjoyed her friends, family, freedom and remaining good health for as long as she possibly could.
Mourning her departure are her daughters Laura and Finola, her grandchildren Cori and Jordan, her former spouse who remained a lifelong friend, John; her remaining siblings, Martha, Janet, Evelyn, Noreen, Orest, Billie, and Lawrence and sister-like-cousin, Helen, as well as her numerous cousins, nieces and nephews, and friends.
At her request, no formal service will be held. An outdoor memorial will be held at a later date to celebrate her life.
Memorials may be made to the charity of your choice. Those that would be close to her heart were animal rescue organizations or women's shelters.
"Perhaps they are not stars, but rather openings in heaven where the love of our lost ones pours through and shines down upon us to let us know they are happy."
-Inuit Proverb