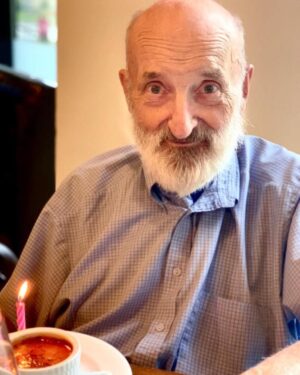 Nicolaas Albertus Rost van Tonningen
August 30, 1933
-
November 2, 2022
Nicolaas Albertus Rost van Tonningen (Nick), 89, of Edmonton, Alberta, passed away at home in his sleep on 2 November 2022.  The third son of Dorethea Cornelia Johanna (nee Backer) and Nicolaas Rost van Tonningen, Nick was born in The Hague, the Netherlands on 30 August 1933 and was the third of his name.  He is survived by his four children, John Paul, Nick, Leslye, and Jennifer, and his six grandchildren, Nick, Willy, Frits, Hudson, Brenton and Julianne, as well as his ex-wife Lynne.
Nick benefitted academically from a classical education, and informally from a father with a greater-than-average interest in, acquaintance with, and understanding of history, politics, and international affairs due to his senior role in the Dutch Royal household. Not interested in going to university or being drafted into the military, Nick left Holland for Canada after high school graduation, working for several years on farms in Western Canada before attending the University of Manitoba. Funding his way through university by working in a packing plant, driving taxis and fuel oil trucks, Nick graduated with a BA in Economics in 1960 and completed the graduate course work needed for an MA in International Relations. He made University of Manitoba history as the shortest serving Student's Union President in its history – while he was elected by students, due to his obligations as a newlywed and his course load, when notified he had won the election, he immediately resigned.  Nick married Lynne Fairbrother in 1961 and spent time in Germany with the Canadian Army's ROTC, after which he joined the Canadian Federal Government's Department of Finance in 1963.
During his time with the Department of Finance (1963 to 1978), Nick was involved in the development and evolution of many important government programs and initiatives that Canadians continue to benefit from today: Canada Student Loan Program, the Canada Development Corporation, the Special Drawing Rights in the IMF, and the Canadian Retirement Income System. From 1966 to 1972, Nick was a member of the Canadian Delegation to the IMF/World Bank annual meetings, learning about Eurodollars when it was still an unknown quantity in North America. In 1979, after separating from his wife, Nick relocated with his four children to Edmonton (his home ever since) to work with Alberta Treasury on the Heritage Fund. Over time his duties evolved to include being Alberta Treasury's liaison officer with the international investment banker community, and its debt management resource person as an adviser to the Deputy Provincial Treasurer and Provincial Treasurer. In early 1989 he took a four months' leave of absence to work with the World Bank and support the restructuring of Kenya's three Development Finance Institutions.
In 1991 he became an independent consultant and his clients included Alberta Treasury, Alberta Treasury Branches, the World Bank (Kenya and Ghana), Telus, and Anguilla's Hansa Bank. In the late 1990's, Nick advised Nova Scotia's Department of Finance, focusing on the the Halifax Bridge Commission's refinancing and was instrumental in the preparation of the province's proposal to Maersk for the development of a $500MM 'post-Panamax' container terminal.
Nick took pride in being a problem solver more interested in results than processes, had a career-long exposure to economic, financial, markets and political monitoring, and was an exceptional strategic thinker, more interested in connecting the dots and understanding longer term social, economic, and political trends. He firmly believed that, while in centuries past humankind believed Nature could be controlled, if humankind wants to survive the 21st century as a species we better learn to live with Nature.  Nick had a life-long love affair with farming (especially when black & white cows were involved), owning and operating three farms. A 'blogger' long before blogging was an actual thing, he started writing Gleanings in the belief that he had more time than those with jobs and families to dig up and research finance, economic, political, and socially related media stories, and might be able to 'add value' by commenting on them in light of his career experiences. Released weekly and later bi-weekly, Gleanings was regularly shared with a mailing list that at one point included over 500 people, and it was rumored it reached over 1,000 people.
At Nick's request, there will not be a public funeral and in lieu flowers, the family is requesting that donations be made to the Cross Cancer Institute or the Bissell Centre in Edmonton, Alberta.
We shall never see his like again.