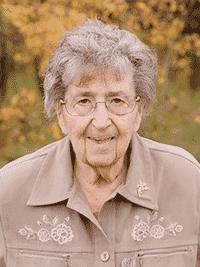 Nona Dorothy McPherson (nee Rogers)
April 18, 1930 – December 29, 2019
Early Sunday evening, the Lord took Nona's hand and accompanied her home at the age of 89 years. Nona was born to Cecil and Hilda Rogers, the second of three children, in Edmonton, AB at the Edmonton General Hospital.
Nona is survived by her younger sister Giovanna Kostiw of Kelowna, BC and her sister-in-law June Rogers; her two daughters Catherine McPherson and Linda (Chuck) Corvec; her three grandchildren DJ James, River Corvec and Joshua Corvec, and numerous nieces and nephews from across Canada. Nona was predeceased by her loving husband Kenneth McPherson, her parents Cecil and Hilda Rogers, her brother Donovan Rogers and his wife Marion, her brother-in-law Dan Kostiw, her brother-in-law Vincent MacPherson and his wife Kathleen, her brother-in-law Grant MacPherson, her sister-in-law Isabel Deavy and her husband Lorne, her sister-in-law Hazel Holmes and her husband Wallace; her nieces June Aldred, Yvonne Wright, and Jean Hambleton; her nephews Andrew Allan, Brian Holmes, Don Banks, Arnold MacPherson, and David MacPherson.
Nona devoted her life to family, Church, the Canadian Armed Forces and Girl Guides of Canada. Nona was a member of the Anglican Church of Canada from her baptism to her death. Nona served her country for 11 years in the Royal Canadian Air Force (RCAF) post World War II and was recently awarded her 50-year certificate and pin from Girl Guides of Canada.
Special Thank you to the amazing staff of Rivercrest Care Centre, Fort Saskatchewan.
Celebration of Life
Tuesday, January 7, 2020 at 7 pm
St. Michael & All Angels Anglican Church,
5003 146 Avenue
Edmonton, AB T5A 4M7
Nona has requested bright and colourful to be worn during her celebration.
Memorial Donations
In lieu of flowers, memorial donations can be made to St. Michael & All Angels Anglican Church General Fund.