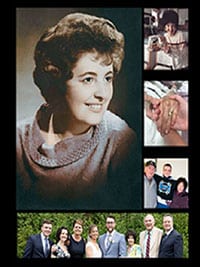 Noreen Christina Clark
August 26th 1942 to July 7th 2020
It is with great sadness that we announce the passing of Noreen at the age of 77. Loving wife, Mother, Granny, sister and friend.
Noreen was born in the small Irish town of Ballina in County Mayo, where she spent her childhood and early teenage years. Educated in Ballina, Noreen began her apprenticeship in the hairdressing industry at a small neighbourhood hair salon.
Knowing there was little opportunity for her in her field in Ireland, she was granted permission by her parents to immigrate to Canada where she reached out to relatives for support. An aunt and uncle in Toronto agreed to give her sponsorship to complete a degree in hairdressing. Emigrating to Canada in 1955 at the age of 16, Noreen completed her degree and apprenticeship.
She was an amazing young and dedicated lady. Noreen worked in the hairdressing trade until she was contacted by her cosmetology school. They asked her to join them and become a teacher in cosmetology. Noreen jumped at the opportunity and after finishing the required courses to teach, in 1962 at the age of 21, Noreen became the youngest licensed cosmetology teacher in Ontario.
In November of 1963, Noreen married Robert (Bob) Clark, and they remained married for 57 years till the day of her passing. August 25th 1964, Bob and Noreen were blessed with the birth of their only son Bradley Robert Clark. Noreen continued working in her trade until she devoted her time to become a full-time mother.
In November 1977, her husband Bob was offered a job position with Kodak Canada and the family moved to Leduc, Alberta and later to Morinville, Alberta. Noreen and Bob retired in their present home in Edmonton.
Noreen never returned to her hairdressing career but her love for fashion brought her into retail sales of ladies fashions and apparel, working in various boutiques in shopping malls throughout the Edmonton area.
Retiring at age the of 65, she and her husband Bob settled into a relaxed, travel filled and RVing life, enjoying time with their family and friends.
Noreen leaves behind husband Robert Clark, son Bradley Clark, daughter-in-law Corinne Clark, three grandchildren - Brittany Hayes (husband Andrew), Megan Clark and Braedon Clark.
In Ireland she leaves behind sister Joan Highfield (husband Colin) and Brother Joseph Sweeney along with a multitude of cousins, nieces and nephews.
Noreen was a very loving, thoughtful, joyful and spirited individual. Blessed with the gift of the gab, she would always be the centre of any gathering, and in keeping with her teaching nature she always was there to give advice when needed.
Noreen will be truly missed by all.
Ar dheis Dé go raibh a hanam. (May her soul rest in peace)
God Bless Noreen
In lieu of flowers, donations can be made to the Cross Cancer Institute of Edmonton in her name. She was always treated with great kindness and compassion by the Staff.
~Letters from Family~
Going to miss spilling the tea with this little Irish gem. It's not goodbye, it's see you later Granny – Brittany
I'll forever be holding onto your hand Granny ❤ ...I will never let it go. I love you, and miss you so much and I can't believe that you are actually gone, but I am happy that you are finally resting in peace. I know that I'll be seeing you walking beside me on my wedding day someday...I'll always save your spot right
beside me at every table I sit at. – Megan
You were a very special person to many people, always looked at the positives in life. Until the day I get to hear you tell one of your many stories, I know you will be cheering loud for me up there. Love and miss you lots. Hope the hearing aids are working. – Braedon
We have lost a very special piece of our hearts and family. You were the life of every family gathering with your stories, laughter and wit. You always had a twinkle in your eye. Loved your family deeply and did not want to say Goodbye. Despite the health issues you have struggled with you never complained or felt sorry for yourself. You took your illness in stride and fought as hard as you could to stay with us. You will be dearly missed. I know there was an incredible welcome and sing song waiting for you. You will always be with us and remembered. As we talked about I will be waiting for the bird pooping on my head as a sign that you are close... our last time laughing together was planning this. Rest easy Granny, I will take care of your boys and your Grandkids from here. Until we meet again, Slainte! – Corinne