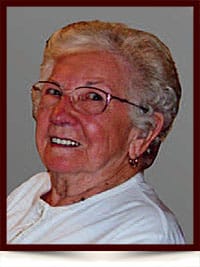 Norma Kathleen Cherwaty
With overwhelming sadness, we announce the sudden passing of Norma at her home on Tuesday, March 21,2017. Norma was born on June 23, 1924 in Govan, Saskatchewan. She will forever be remembered, loved, and missed by her son Ron; granddaughters Lynn (Brian) Novak, Denise (Al) Sterling and their mother Mary; grandson Joe (Kyla) Cherwaty; her five great-grandchildren; sister Mavis Thorsell (Roger); and several nieces and nephews.
Norma was predeceased by her husband Joe; son Denys; parents Kathleen and Maitland Hart; siblings Edna Fuerstenberg, Douglas Hart, Marjory Murphy; and daughter-in-law Dolores.
Norma was a valued employee of the HBC for 35 years and upon retirement she and Joe enjoyed many happy years; travelling in their motorhome, fishing, camping, swimming, skating, skiing, golfing. and memorable cruises.
Norma was an active participant with the Capilano Seniors and made many friendships. Norma was kind, caring, generous and fun-loving. She exuded warmth and her home was warm and welcoming to family and friends. She was just "the best mom, sister, grandma, aunt, and great-aunt!"
Norma had many interests (gardening, knitting, reading, winemaking, crosswords) and was computer-literate. She was known for her delicious baking and cooking, winning a "Best Chili" Contest. Norma believed in enjoying the simple things in life.
She was loved by everyone who knew her and she will be greatly missed.