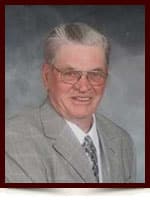 Olafur Bildfell
March 18, 1929 - July 13, 2016
It is with great sadness that we announce the passing of Oli Bildfell, on July 13, 2016 in Edmonton. Alberta. Oli passed away quietly, while surrounded by family, after a short struggle with recent health issues.
Oli was born and raised in Foam Lake but spent a number of years working and living in Alberta and British Columbia before returning to farm with his family, Katie and Don in 1963, with Kevin born in 1964. Oli will be remembered as an honest, kind, hard working person who would generously give his love and time to family, friends and community. He will be missed.
Oli was predeceased by his wife Katie, granddaughter Melissa, great- grandson Riley, and his siblings Gisli, Torfi, Vala , John and Albert. Oli is survived by brothers Kris, Lawrence, Clarence & Marvin and his two sons Don (wife Brenda and their children: Erin & Connor Dolighan, Leanna and Cameron) & Kevin (wife Debbie and their children: Jessica & Mason Engblom and son Walter, Jenna & Tom Scott and son Maxwell). Oli loved farm life and was so thankful that he was able to sell the farm to Taralynn Meredith and Dennis Day, who will carry on his farming dreams.
Thank you to everyone for their well wishes and prayers during this difficult time. In lieu of flowers, please make a donation to either the Kidney Foundation of Canada or the Leukemia & Lymphoma Society of Canada. The family will be making an announcement shortly in the Foam Lake Review with details regarding Oli's Celebration of Life.
Sincerely, The Bildfell Family