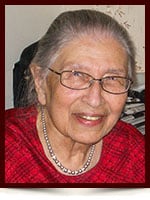 OLGA GNANASIHAMANY (née Van Langenberg)
February 23, 1916 – April 15, 2016
It is with deep sadness that we, the children loved by Olga Theresa Edell Gnanasihamany, announce that she died peacefully at the dawn of April 15, 2016, at just over 100 years old. Her memory will be cherished by all who knew and dearly loved her.
Mum was born in Colombo, Sri Lanka in 1916. She was a brilliant student, but withdrew from school to help support the family. As the eldest of six, it often fell to mum to look after her younger siblings – and that early habit of putting other people's needs first is what also made her such a devoted wife, mother, aunt and grandmother. Whether answering to "Edell", "Mummy", "Auntie", "Grammy" or "Mimi", she was our biggest (and, frankly,most biased) fan. Yet, despite being soft-spoken and soft-hearted, there was steel inside her.
Defying the customs of the time, she married across race and religion. She immigrated with her family to Canada in 1971 – and while times were tight, she made sure each of us never missed the joys of cake on birthdays and presents at Christmas. After our dad's death, Mum freely indulged in twin passions for learning and politics, taking courses at the University of Alberta and writing stories, poetry and pithy, yet pointed letters to the Editor of the Edmonton Journal. Music and writing were always a big part of her life, and she attended the University of Alberta well into her 80's, taking courses in these two disciplines. The original 1972 Canada-Russia hockey series had also converted mum into a lifelong hockey fan, cheering on the Edmonton Oilers and her favourite players of all – her oldest and youngest grandsons – with gusto. And in between, she travelled to Australia – solo – completed hundreds of crosswords, recited thousands of rosaries, regularly followed her favourite soaps on TV, read voraciously, savoured favourite foods of her adopted country – poutine and pizza – pampered a series of very lucky cats, and watched our lives unfold with equal parts wonder and worry. In times of turbulence, she was our harbour.
Mum was predeceased by her husband Arumuham Gnanasihamany ("Many"), parents Aidan and Carmel VanLangenberg, and siblings Lucian, Donald, Zeno and Mignon (Perera). She is survived by her sister Erica Bowen (Australia), children Eric Manny, Tony Gnanasihamany, Marie Adams, Emille Currie and Lucille Gnanasihamany, grandchildren Ian Manny, Jhillian and Dustin Adams, Megan, Lauren and Stephen Gnanasihamany and Matthew, Claire and Stella Murphy, numerous nieces and nephews, in particular niece Teena Perera and nephew Quintus Perera, grandnieces Cori and Kelsey Campbell, grandnephew Aidan Perera, and Wanda Stephens, Dennis Adams, Paul Murphy, Bruce Davidson, Garry Campbell, who will all miss her gentle presence. We are so blessed to have had this remarkable, resilient, great-hearted woman as our own, and to now have her beautiful spirit with us all the days of our lives. Rest in peace, Mummy.
She loved Omar Khayyam and Rabindranath Tagore and so, at her death, we share these words:
Awake! for Morning in the Bowl of Night
Has flung the Stone that puts the Stars to Flight:
And Lo! the Hunter of the East has caught
The Sultan's Turret in a Noose of Light.
(Omar Khayyam)
Death is not extinguishing the light. It is putting out the lamp because the dawn has come.
(Rabindranath Tagore)
Our deep appreciation to Mum's long-time caregiver, Judy Zimmerman and also the caring staff at the Jubilee Lodge nursing home for their care and attention to our Mum.
Celebration of Life
Saturday, April 23rd at 10.30am
Trinity Funeral Home
10530-116 Street, Edmonton
In lieu of flowers please donate to your favorite charity and join your friends and family in singing your favorite songs.