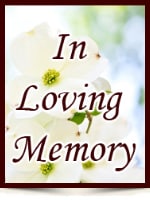 Olga (Metro) Hackman
On July 7, 2017, Olga (Metro) Hackman of Andrew, AB passed away at the age of 83. Olga will be dearly missed by her children, grandchildren, family and friends.
Special thanks to the staff of the Lamont Health Care Center and her friends at Morley Young Manor.
Beyond the horizon is a place of peace. Private interment.
Donations to Lamont Health Care Center.