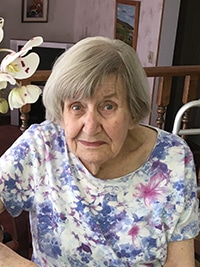 Olga Zilinski (Makarewich)
It is with great sadness that we announce the passing of our mother, Olga Zilinski, on May 30, 2020.
She is survived by her children: Irene Zilinski (Vancouver), Gloria Zilinski (Vancouver), Michael Zilinski (Gail), Patricia Garth (Dennis Johnston), and Alex Zilinski, 3 grandchildren (Larissa, Michael, Daniel), 2 great-grandchildren (Annika, Cameron) and her sister Jenny Dunphy (Houston, Texas).
Olga was predeceased by her husband Joseph, sister Mary Makarewich, brother Edward Makarewich, parents Mike and Annie Makarewich, son-in-law Ken Derby (Irene), brother-in-law Warren Dunphy (Jenny). Olga is also survived by several friends and relatives and numerous nieces and nephews.
Mom loved children and being a mother. She was generous and shared without reservation. Mom was a true prairie girl. She loved the outdoors and the changing seasons and of course, the Oilers. Mom had an exceptional green thumb; giant tomatoes, a summer's worth of cucumbers and lettuce, colourful geraniums all thrived on her back deck. Each of us has botanical reminders of Mom in our homes.
We will forever remember Mom with everlasting love.
A private family graveside service was held at St. Michael's Cemetery, on June 3, 2020.
In lieu of flowers, a donation may be made to a charity of your choice.