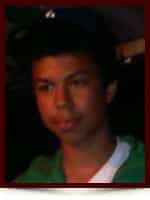 Omar Albert
October 07, 1993 - October 04, 2016
Omar Albert of Edmonton, formerly of Surrey, BC passed away 3 days before his 23rd birthday.
Omar will be lovingly missed by his Mother, Charmagne Daniel, Father, Robert Albert, his Daughter, Aliyah Novakowski, Aliyah's Mother, Nikki Novakowski, Grandparents, Mary Lou Hawkes, Murray Gavel, Adline and Clement Albert, His Aunts and Uncles, Tony Albert, Kim Bergen and Dawn Jones. His siblings, Shakur Brow-Poyer, Jahmeah and Jahrin Daniel, Stacey Achadinha - Bentley, Robert Achadinha, Devoun Jamieson Hallums, Tyson Clark, Nicholas Demski and Tyson, Owen, Emma and Whitney Albert. In addition, his step Mother, Leanne Jamieson.
Omar had a zest for making people feel as special as he was. There was always a kind word to be said and a funny face if you needed it. He embraced everything that came his way whole heartedly.
Omar left us too early and didn't get enough time to become the wonderful man he could have been. He did try his best with the cards that were dealt. A part of everyone he was close to is now gone. His memory will always be held dear in our hearts.
Omar - A smile will be worn whenever your name is mentioned or a memory is triggered. We love you....
Multiple Celebrations of Life will be held, please contact family members for locations and times.
In lieu of flowers, donations can be made in Omar's name to the charity of your choice. He did spend extensive time in the Boy Scouts of Canada and enjoyed it immensely.