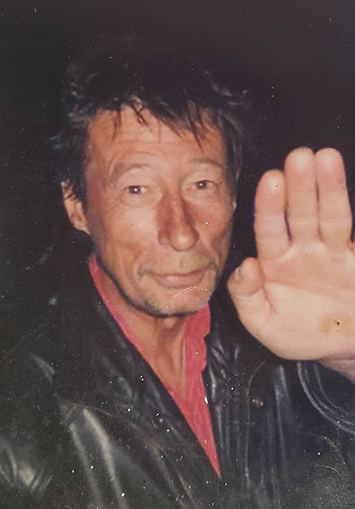 Owen Roe Aloysius O'Neill
April 5, 1954
-
January 1, 2023
It is with broken hearts I share the passing of our eldest brother Owen Roe Aloysius O'Neill. Born in Mulgrave April 5th 1954 to Angus and Philomena (Coady) O'Neill.
He was mischievously quiet as a youngster I have been told which would stay with him throughout his life and serve him well as the story teller. He played tennis as a kid as everyone seemed to in Mulgrave and enjoyed his trips to his grandparents as well many trips to the ghost brook. After his years in Mulgrave, Owen attended St. F. X. university, then Dalhousie where he made the Dean's list.
Although he excelled academically, Owen struggled to find a direction in life and so around the globe he would travel for years coming home with stories so outlandish it did not matter whether they were true or not as they were so entertaining. But that mischievous smile always lead me to believe there more truth than fiction. Always mentioning how good life in Canada was comparatively.
Owen spent many years in the Alberta Oil Fields confirming many times the biggest population of East Coasters were in Alberta. He was a jack of all trades helping keeping production going with whom ever he was working in any way he could help. In his later years Owen had let us know that he had battled bi-polar issues which had plagued him socially, we never know the battle someone takes in in silence. Knowing that helped us all communicate better. Owen loved the crossword puzzles from big papers and was quick to point out at times how they should be called out for having a low standard puzzles in some issues. He enjoyed his tomato plants on his balcony and his late night walks around his community where he was well known for walking no matter the weather.
With back and shoulder issues from his years of work in the oil fields he had slowed down with his walks being shorter but always had enough energy to continue his long-standing commitment of checking on his friends and neighbours to see if they needed groceries, supplies or if he really like you a Guinness run.
When talking to my sister Tara before Christmas, Owen had said his arthritis was so bad he could hardly write his Christmas cards which was something he enjoyed sending and receiving. With regard to his health through the years there was an emotional roller coaster of news being diagnosed with colon cancer only to be told it was a misdiagnosis then to find out the 1st diagnosis was
true and he battled that with success. Covid as with all kept Owen from his walks and the community he had grown to love and the people he had met through the years.
Owen is greatly missed and survived by his sister Tara(Lawrence) Mulgrave, brothers Hugh(Gwen) Frankville, Liam(Wendy) Orangedale, Brendan (Halifax) many many cousins and friends.
Owen is predeceased by his mother Philomena (St.Johns NFLD), Father Angus(Mulgrave) and brother baby Liam(Mulgrave).
With his passing we bid our brother Owen, the free spirit who travelled the world to take one last journey hopefully finding the peace and contentment that only comes in a perfectly poured Guinness.
grá i gcónaí
Love always