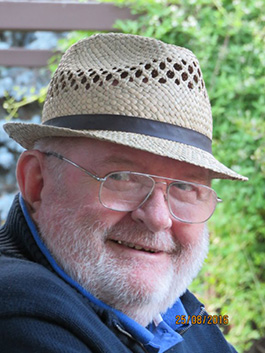 P.J. (Padraic) Clooney
August 7, 1936
-
December 21, 2021
On December 21, 2021 P.J. passed away at the Kipnes Centre, where he had been a resident for the last few years. He was 85.
P.J was born in Edmonton on August 7, 1936 to the late Vera Clooney nee Wendt and James (Jimmy) Clooney. He graduated from Victoria Composite High School and the University of Alberta with a teaching degree and went on to spend many years teaching with the Edmonton Public School Board. P.J. was also very active with the ATA.
As a young man, P.J. played football and then discovered his passion for Rugby and played for many years with the Edmonton Clansmen Rugby Football Club. Some of his favorite memories were of time spent on the pitch and in the clubhouse! In notes he left for us he said "He wishes that he had been more considerate of his body when he was younger." Some old injuries came back to haunt him and challenge his mobility.
P.J. retired early and went on to further explore his interests in the Fine Arts. He took many classes through the U of A Extension and joined groups with the Edmonton Lions Seniors' Centre. He enjoyed aquatic fitness classes, both for the health benefits and social aspects. As usual, he made friends quickly, especially with the people who could appreciate his dark and sometimes caustic sense of humor.
P.J. will be remembered by his six children; Tara, Trish (Len Broad), Tim, Tom, Deirdre (Mike Holowatch), and Jimmy (Teagan O'Connor). He will also be remembered by Tom and Dee's mom Daphne (Luchka) Carlyle and Jim's mom Heather Bedford-Clooney. P.J. leaves behind seven grandchildren and one great-grandchild.
P.J. was predeceased by his parents Vera and Jimmy, his sisters Sheelagh Cluney and June Wein, and Tara, Trish and Tim's mom Betty (Mair) Clooney.
As per dad's wishes, he has been cremated. He did not wish to have a funeral but the family will be hosting a memorial service in the Spring, when it is safe to do so. In his words "P.J. will be moving to the Edmonton Cemetery."