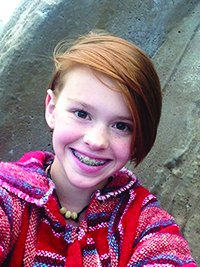 February 20, 2003 – May 24, 2018
Paige Alyssa Wadley was born on February 20, 2003, in Edmonton, AB, and died suddenly in her bedroom on May 24, 2018, at 15 years of age. She was the first-born daughter of Darren and Ruth Wadley, an older sister to Julia and Kade, a granddaughter to Gerard and Dolly Wadley, a niece to Jonathan (Marcela) Huckabay and Brent (Shyvonne) Wadley, cousin, and friend to many.
She was predeceased by her maternal grandparents William Lloyd Huckabay and Marymae Olds.
Paige lived a dynamic and vibrant life full of colour and contrasts. She possessed an independent spirit, a sense of adventure, and enjoyed extremes. Paige was silly and thoughtful, fiery and passionate, sweet and kind, strong in her own faith, yet accepting of difference.
Like a rainbow after the storm, the tragedy of Paige's passing reminds us all to look to God's love, mercy, and the promise of a new life of eternal peace in his presence.
Memorial Service
Saturday, June 2, 2018 at 1:00 pm
Kingdom Way Church
10436 63 Avenue, Edmonton, AB
Interment
Friday, June 8, 2018 at 4 pm
Rosehill Cemetery
1605 141 Street SW, Edmonton, AB.
Memorial donations can be made online at www.gofundme.com/wadley-family