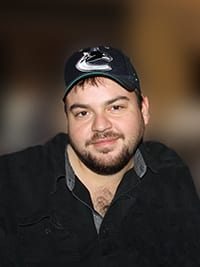 Patrick David Donnelly
Patrick passed away suddenly on October 3 in Ft. McMurray, AB. Patrick is survived by his mother Bonny Donnelly (Vaughan Thorne), brother Michael (Kelsey Hinko), sister Maureen Morrison (Kim), their children - nephew Shane Morrison and niece Rhea Morrison,  sister Shannon Slade (Kevin), and Sister Sophia Rosenbloom and her children - nephew Tristan Delaney,  nieces Kaitlyn and Julian Delaney.
Also surviving are his step grandfather Ron Sather, maternal grandfather Walter Trotchie (Kathy), step uncle Wayne Johnson, uncle Scott Trottier, aunts Della Howells (Scott) and Doreen Sather, uncles Don and Dale Sather, aunt Lynn Heron and his great aunt Val Schmidt.
Patrick is predeceased by his father David Donnelly, sister Angela Sather, maternal grandmother Monica Sather, aunts Koreann Hammond and Sandy Nichol, and Uncle Jim Sather. Patrick's paternal grandparents, Violet and Roland Donnelly also predeceased him. Patrick had a very close relationship with every one of them.
Patrick is also survived by a very large extended family with several great aunts, uncles and too many cousins to name. He may not have been close with all, but all would have certainly loved him because he had the biggest, most generous heart. Children were immediately attracted to him because Patrick was game for anything that would make a child laugh, including playing dress-up.  He loved occasions and holidays. Christmas and Halloween were his favourites. All through childhood, Patrick couldn't wait for Nov. 1 when he'd be allowed to put the tree up. That love of Christmas stayed with him for his entire life.
Patrick had a zest for life and an almost urgent need for knowledge. His interests include a love of maps, books, Wikipedia, country music, road trips, camping, board games, cars, The Avengers, and the Vancouver Canucks, amongst so many others. His wicked sense of humour will be missed by everyone who knew him.
Celebration of Life
Friday October 12, 2018 2:00PM
Trinity Funeral Home Chapel
10530 116 Street, Edmonton AB.