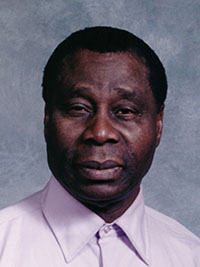 Patrick Ise Emokpae Sr.
Passed Away
March 13, 2021
Patrick Ise Emokpae Sr., passed away, peacefully, on Saturday, March 13, 2021, after contracting the coronavirus. Patrick is remembered for his passion for each moment and a singular spark. Remembered for a life marked by devotion to friends and his love of family.
Born in Benin City, Nigeria, on August 6, 1938, Patrick was one of fifteen children. As a young man, he served in the merchant marine, eventually emigrating to Canada in 1965. Over the span of five decades, his Canadian odyssey took him from the shores of the Maritimes to the Alberta prairies.
Blessed with an infectious smile, his laughter and levity brought joy to those he loved the most. As a pillar of the Nigerian community, Patrick served as a founding member of the Nigerian Canadian Association of Edmonton. He honored and experienced all the diversity that Alberta had to offer, from First Nation Sweat Lodge ceremonies to dinners with friends at German schnitzel houses.
Born to be an entrepreneur, his successful ventures included a thriving hatchery, trucking businesses, a local cab company, and a mechanic shop. Admired for his tremendous work ethic, Patrick strove to make his adopted country a place of opportunity for all. He was also a teacher in the Edmonton Public School system for more than fifteen years.
A quintessential outdoors man, Patrick was most at home in nature, whether it was camping, hunting or salmon fishing in British Columbia. Patrick taught, even when he did not realize that he was. Imparting lessons from his own mistakes and achievements, in equal measure.
Patrick is survived by his children Helen Emokpae, Emma McCallion, Patrick (Dalynn) Emokpae, and Patricia Skagen-Emokpae as well as his grandchildren Alexander, Zyana, Abigail, Owen and Jordan.
We will be celebrating his life on Saturday, March 20, 2021, between 11:00 AM and 1:30 PM at St. Vital Catholic Church, located at 4905 50 Street, Beaumont, Alberta. The service will be live streamed through this link: Live Stream Service for the Late Patrick Emokpae