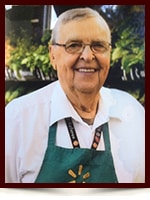 Paul Franklin Nykyforchyn
Paul Franklin Nykyforchyn of Edmonton, Alberta peacefully departed from this earth on Saturday, January 5, 2013. Memories of 83 years of life will be treasured by his family and many friends.
Paul was born in Sundown, Manitoba on March 28, 1929, and later moved to Toronto, Ontario. There he met Eugenia and they married on October 14, 1950. He loved adventure and spent time in Vancouver, British Columbia working on bridge and building construction before returning to Fort Frances, Ontario to start a family. He found work in the logging industry and moved the family to various logging communities throughout Northwestern, Ontario before settling in Conmee Township in 1969. A few years later Paul's yearning for travel drew him to the profession of long haul trucking which offered him the opportunity to meet people and visit thousands of places across North America. He drove truck for over 30 years for companies including Kingsway, Monarch and Norampac before retiring in 2005. Never one to take it easy, he commenced employment in the Produce Department at Walmart in 2007. He truly loved the people he worked with and took great pride in stocking and displaying produce. Paul was loved and respected by his family, colleagues and many wonderful friends.
He will be sadly missed by all, but we can take comfort in the the words of Leonardo da Vinci … "As a well-spent day brings happy sleep, so a life well used brings happy death". He is survived by his son Paul Allan (Billie- Jean), grandsons Paul (Kristin) and Casey; daughter Brenda (Jamie); sisters Helene, Pauline and Justine and many nieces and nephews. He was predeceased by his sister Margo, brother Johnnie and parents Annie and Onufre.
Cremation has taken place.