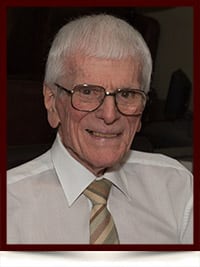 Peter Clemson
November 1, 1929 – May 2, 2017
It is with great sadness that we announce the passing of Peter Clemson on May 2, 2017. He passed away at the age of 87, with his daughter by his side. We bid a tearful farewell to our loving husband, father, granddad and friend.
Peter was born on November 1, 1929 in Newton-le-Willows, Lancashire, England, son of Harry and Ella Clemson. He was an avid rugby player and cyclist in his younger years and loved to travel with his bride. Their adventures took them throughout Europe, the United Kingdom, the United States, South Africa, Australia and Canada.
He is survived by his loving wife of 63 years, Patricia Anne, and two children Chris Clemson (Kath) and Anna Ellert (Neil); grandchildren Cailin, Brenna, Campbell, Paul and James and numerous close friends including Carl and Lorraine Ellert and Reg and Helga Gannon.
Special thanks to Peter's GP, Dr. David Pickle and the doctors and staff at the Grey Nuns Community Hospital.
In lieu of flowers, donations can be made in Peter's name to the Covenant Foundation (Grey Nuns), Room 3C60, 11111 Jasper Avenue, Edmonton, AB, T5K 0L4; Phone: 780.342.8126