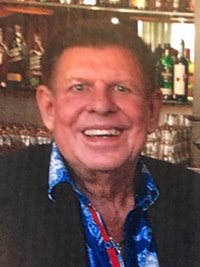 Peter D T Eastwick
1944 - 2020
Peter passed peacefully at home on January 6. He was predeceased by the love of his life Carolyn, parents Mona and Leslie of South Africa & brother Brian of Rhodesia. Born in Cape Town,  Peter graduated from Bishops College, Rondebosch. Seeking adventure, he left South Africa & came to Canada where he met Carolyn in Winnipeg, then together moved to Edmonton.
A successful entrepreneur, Peter shared his enthusiasm for life with his many friends & colleagues. He was an energetic host & cook that left his guests smiling.
He is survived by his brother Richard of Cape Town, sister in law & brother in law Phyllis & Dan Black of Regina & brother in law John Moir of Edmonton as well as many nieces, nephews & close friends.
Many thanks go out to Peter's friend Carole, who along with Alberta home care, made it possible for Peter to live at home as he desired.
A celebration of Peter's life will take place on Saturday March 14th at 2 PM at the Highland Gold Club, 6603 Ada Blvd. NW Edmonton, AB
"Love of Love, Love of Life, & Giving without Measure"