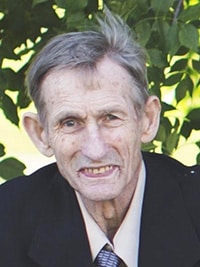 Peter Maximilian Ferrari
We are heartbroken to announce the sudden passing of Peter Ferrari at the age of 85 on August 25th in the Leduc Extendicare facility.
Peter will be remembered for his everlasting love of his family, the many beautiful homes he built over his 60+ years of carpentry, his special bond with pets, and the way he could always make anyone laugh with his wit and humour.
Peter lost Gudrun, his wife of 66 years, in May earlier this year. His heart was broken without his soulmate, but now they are reunited.
He leaves to mourn his daughter Sonja (Brad); his son Peter; six grandchildren Chandra (Adam), Chantal, Jesse, Stephanie, David and Jackson; six great grandchildren Logan, Adalynn, Kegan, Kiera, Damon and Christian. As well as numerous nieces, nephews, extended family and close friends.
Peter was predeceased by his parents Norbert and Maria; his daughter Ingrid; grandson Shae and granddaughter Carmelita.
Celebration of Peter's Life, including special memories of Gudrun
12:00PM Thursday September 13th
Strawberry Hall
1544 Twp 502 NW of Thorsby, AB