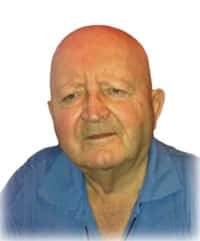 Peter Zacharuk
It is with great sadness we mourn the loss of Peter Zacharuk. After 90 years of a wonderful life.  Born in St. Paul, AB. June 6 th , 1930 - November 7 th , 2020.
Survived by Daughter Sheree Wawrinchuk and (Mark Wawrinchuk), grandson Reggie Wawrinchuk, grandson Luke Wawrinchuk and (Taylor Girard), sister Pauline (Ted) Johnston.
Predeceased by wife Edna Zacharuk and son Gary Zacharuk.
Worked many years as a meat cutter. Enjoyed gardening, cooking, camping and fishing.
Family meant everything to him. He was always making jokes and being a fun goofy guy. He will be missed dearly and will forever be in our hearts.
We will miss you Dede.