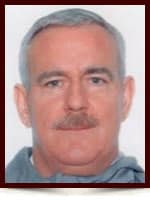 Pius Eugene Kavanagh
Pius Eugene Kavanagh, beloved father and husband, passed away peacefully at his home in Edmonton on Saturday, March 5, 2016. Pius, a dedicated and hardworking father and husband, created so many wonderful, funny, and memorable moments for all of his friends and family members. He will be greatly missed.
Pius is survived by his four children: Michelle, David, Brian, and Martin, and his wife Lien; and his siblings Earon, Colette, Dianne Marie and Maureen, and many loving relatives in Newfoundland.
Funeral home visitations will be available for friends and family on Friday, March 11, 2016, from 2 to 5 pm, at the Trinity Funeral Home, 10530-116 Street NW, Edmonton.
A Rhyme for Pius
Pius was a working man
A merry man was he
And every thing
That he would touch
Would change to reverie
For Pius liked
To tell odd jokes
And drink
Good rye and rum
With every sip
His eyes got bright
He'd tell another one
He'd laugh aloud
As he told each joke
You would be laughing more
Pius walked in
The soiree began
Down on the Southern Shore
Pius wasn't just a joker
Nor a simple raconteur
For Pius could pontificate
On anything
And more
He was known as The Pope
And it wasn't just his name
For he rolled with Jewish Rabbi's
Ex-criminals
And the famed
But he didn't care
For neer-do-wells
He was the real McCoy
But a Newfie joke
A story bold
Left a twinkle in his eye….
We're sending Pius off
In the merriest of ways
To help him on his journey
To his next life's days
He might meet up with Jesus
Or even Buddha too
We're sure he'll tell them stories
And even share a brew