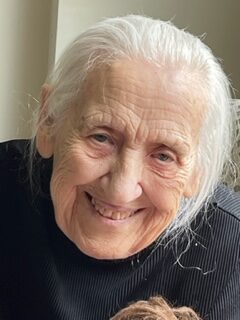 Polly Parania Dudus (nee Strohan)
December 25, 1924
-
July 15, 2022
Polly Parania Dudus (nee Strohan) died peacefully in her sleep on July 15, 2022, in Edmonton, Alberta. She was 97 years old.
Polly was born December 25, 1924, at the family farm in St. Julien, Saskatchewan, to Helen and George Strohan, who preceded her in death. Some of Polly's fondest memories in later life were of the family farm and making wine for her father, George. On November 15, 1952, Polly married the love of her life, Walter Dudus, in Saskatoon, Saskatchewan. The two were beautiful, loving, and inseparable companions, particularly on their frequent fishing outings until Walter's death on May 24, 1975. They were blessed with four children: Victor, David,
Teresa, and Lawrence. Polly was the proud matriarch of her family for almost fifty years, and she will be forever known as a generous, benevolent, and direct spirit by those who knew and loved her. A devout member of St. Joseph's Basilica, every life she touched knew and understood that she was one of God's angels who came to earth to make our lives bright in times of darkness. She was an expert horticulturist, and her garden was the best in the neighbourhood of Riverdale, Edmonton; a visual masterpiece and envy for all privileged to have seen it at its finest.
Polly is survived by her children Victor (Pauline), David, Teresa (Lawrence) Craig, and Lawrence; nine
grandchildren; six great-grandchildren; and sister Pauline Sakowsky.
She was preceded in death by her husband Walter Dudus; her sisters Ann Bulgis, Eva Gunderson, Mary
Pelech, and Jenny Herman.
Polly especially will be remembered by her family for the love and care she gave to the stray cats of Riverdale; a visit to her garden always meant an adventure to a wondrous place.
A Funeral Service will be held for Polly on Monday July 25, 2022 at 2:00 p.m. at Trinity Funeral Home, 10530-116 Street in Edmonton. She will be laid to rest at St. Michael's Cemetery.