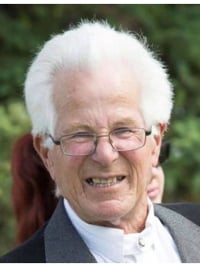 Ralph John Lowther
Ralph John Lowther, 75, of Sherwood Park, AB passed away on 13 July 2020 after a brief battle with cancer.
Ralph was raised in Bashaw, AB,  the middle son of Eileen and Francis Lowther. He is predeceased by both parents and his older brother Edward.
He is survived by his younger sister Joan Graham of Edberg and her family. He is survived by his wife of fifty years Joan and their two children Faye (Chris Brookes) Lowther of Edmonton and her daughter Anne-Marie as well as Sandra (Brad) Bow of Lac La Biche and their two children Kristal-Dawn and Rylie.
At Ralph's request there will be no service. We will hold a celebration of his life when we are able.
In lieu of flowers donations can be made to the Animal Cancer Therapy Subsidization Society