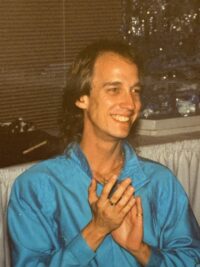 Randall (Randy) Hans Mueller
September 6, 1966
-
December 30, 2021
Randy Mueller of Edmonton passed away peacefully on December 30, 2021 at the age of 55.
He is predeceased by his mother Julienne Mueller in 2012 and his father Jerry Mueller in 2013.
Randy will be lovingly remembered by his two siblings, Glenn (Cherilyn) and Gloria (Mike), his nieces Micaila and Jolene, as well as numerous extended family and many very special friends.
Randy leaves behind his best friend Carly Neis, along with her service/therapy dog Gilmore. The support, love and unconditional care Carly has given these past several months will be forever cherished. The comfort that Gilmore has provided to Randy is a gift of canine devotion and love.
Randy's musical arrangements were magical! His talent and creativity for music was immense. But his true passion was in showing and teaching others that they can express their passion and creativity and reach their potential. Always encouraging the words… "never listen if someone tells you we can't or shouldn't sing…everyone can sing!     Randy Mueller
Randy's musical journey spans many years back as a composer, choral director, vocal coach and music director for theatre. He made his conducting debut at age 19. Randy knew how to inspire whoever was fortunate to work with him. With all his incredible talent he was humble and devoted to helping others reach their potential. You will be missed Randy.
A celebration of life will take place in 2022!
The family asks that memorial donations be made in lieu of flowers to the Cross Cancer Institute in Edmonton, AB.