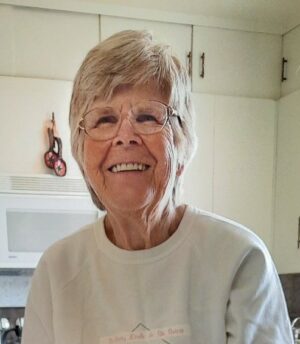 RAUHA VILHELMIINA NISKA-ARO
December 31, 1939
-
March 2, 2023
With deep sadness, we announce that Rauha passed away at the age of 83 years after a battle with cancer.  She was our grandmother, mother, sister, daughter, aunt, friend, and so much more.
Rauha was born on December 31, 1939 in Kuru, Finland and was one of eleven siblings. Rauha is survived by her son Glen (Brenda), grandson Luukas, granddaughter Anneka, brothers Oiva and Aarre, sister Kyllikki, nieces, nephews and many extended family.
Rauha is predeceased by her parents Verna and Viljo Paloneva, son Ben, husband Veijo, siblings Reijo, Arto, Lasse (Tuulikki), Kosti, Taarmo (Riitta), Raija and Juhani.
Rauha grew up in a small family homestead in Kuru, Finland and helped take care of the large family. She moved to Tampere to work in cafes and restaurants. With her best friend, she moved to Gothenburg, Sweden and found work in the textile and clothing factories. There she met Veijo Niska-Aro and they were married on June 22, 1967. Rauha and Veijo were adventurous and made the decision to move to Canada, ending up in Edmonton, AB. Their son Ben was born in 1968 and Glen followed the next year in 1969. Ben tragically died from cancer in 1987. 
The family enjoyed camping and fishing and made many trips to Vancouver Island, northern Alberta lakes, Westcove at Lac St. Anne, and later at the Finnish camp at Fork Lake. Rauha enjoyed taking care of her beautiful flowers and working in her garden. She also baked delicious Finnish treats like pulla and piirakkaa. Over 50 years of memories were made raising family, playing with grandchildren and there were many years of retirement enjoyed with Veijo before he passed away in 2018.
Rauha was a beautiful, peaceful woman with a wonderful smile and she will be sadly missed.
A celebration of Rauha's life will be held at Trinity Funeral Home ( 10530-116 St. Edmonton, AB.) on Tuesday March 28th at 2:00 PM  with Reception to follow.
In lieu of flowers, please donate to the charity of your choice.