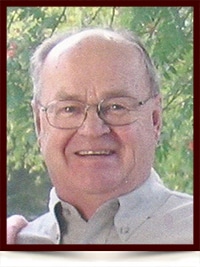 Ray McMurray
March 27, 1935 – July 30, 2017
Ray, 82, beloved husband, father, and grandfather, passed away peacefully with his family at his side, after a short and courageous struggle with cancer.  Left to carry on his memory are his loving wife of 58 years, Shirley; daughter, Wendy (Doug); son Blair (Trish), their children Rhianna and Shaelyn; son Dale (Kelly), their children Sara and Neil; and his extended family members and many friends.
They will all miss him tremendously, never forgetting his spirt and support.
Ray lived a full life – he was an avid sportsman, hardworking businessman and dedicated family man. He loved tennis, played many years of handball and made great friends along the way, and played golf and pickleball right up until the start of his illness.  He also loved his work – he obtained his Chartered Accountant designation in 1958 and shortly thereafter went into business with his long-time friends and business partners, pursuing many ventures over a long career until finally retiring in his 80s.  He also had a strong sense of community and dedicated countless hours to many charitable organizations over his career.  He loved his family, enjoying every day with his wife Shirley and the many visits and dinners with his kids and grandchildren.  He will always be remembered by his grandchildren for how he tirelessly played with them in the gentlest way.
Consistent with Ray's wishes, a funeral service will not be held.  In lieu of flowers, please consider a donation to the St. Joseph's Auxiliary Hospital in Edmonton (online or mail to: Covenant Foundation, Room 3C60, 11111 Jasper Avenue Edmonton, AB   T5K 0L4), or a charity of your choice.
The family would like to extend sincere thanks to the wonderful staff of St. Joseph's Auxiliary Hospital who so thoughtfully and tenderly offered their care to Ray.  The family is also especially grateful to Dr. Nigel Flook and Dr. Robert Flook for their compassionate care and amazing attention to his every need.