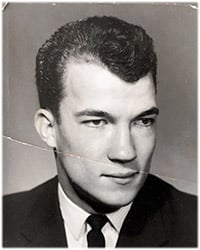 Raymond Wallace Storie
On August 12, 2020 Ray Storie passed away at the age of 77. Ray is survived by his son Raymond Earl Storie (Raymie), daughter in law Ilona, grandchildren Emily and Joshua, sister in law Arlene, nephew Greg (Lorna) and niece Cheryl (Mark). Ray was predeceased by his wife Dianna (Ziggy), his son Dean and his brothers Dick, Grant, and Vance. Ray was a fun-loving entrepreneur who like most business types had some good fortune and some not so good fortune. As for fun: from the teen dances of the late 50's (Stardust, Alberta Beach, Pigeon Lake etc.) up until his last rounds of golf with Big Al and the Wilbury Group, Ray had fun. He felt lucky to have had upbeat and fun friends throughout his life. Ray knew he was especially fortunate to have met and married his wife Dianna (Ziggy). She was a beautiful person and a wonderful mother.  As the song goes, she was a Good-Hearted Woman.  They had a great relationship for 45 years until Ziggy's passing in 2009.
Cremation has taken place. At Ray's request there will be no funeral service. In lieu of flowers send donations to the Salvation Army.