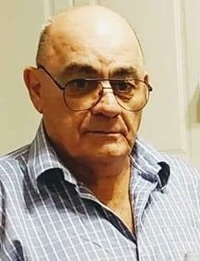 Renald Joseph Thomas
We are sorry to announce the death of Renald Joseph Thomas who passed away in the hospital surrounded by his loving wife Mila Thomas. He leaves to mourn him his wife, his siblings Andrea, Henri, Aldorie, Yves, Armand, Tilmond and Jean-Paul.
He was predeceased by his mother Marie Leonie and father Joseph Elie, also three brothers Roland, Raymond and Yvon. He will be remembered by his family, friends and special friend Adelbert.
You Are Now in God's Loving Hands, Forever in Our Hearts
NO SOMMES DESOLES D'ANNONCER LE DECES DE RENALD JOSEPH THOMAS, QUI EST DECEDE A L'HOPITAL ENTOURE DE SA DOUCE EPOUSE MILA THOMAS. IL LAISSE DANS LE DUEIL SA FEMME, SES FRERES ET SOUER ANDREA, HENRI, ALDORIA, YVES, ARMAND, TILMOND ET JEAN-PAUL. RENALD FUT PRECEDE DANS LA TOMBE PAR SA MERE MARIE LEONIE, SON PERE JOSEPH ELIE, AINSI QUE TROIS FRERES ROLAND, RAYMOND ET YVON. SA FAMILLE, SES AMIS SE SOUVIENDRONT DE LUI AVEC AMOUR, SPECIALEMENT SON GRAND AMIS ADELBERT
TU ES DANS LES MAINS DE DIEU, DANS NOS COEURS A TOUT JAMAIS