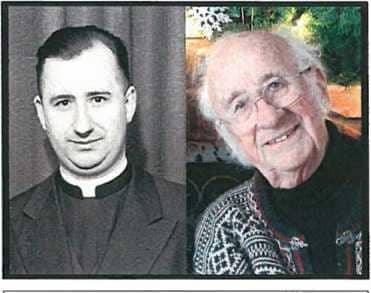 Rev. Dr. Lothar Schwabe
On July 13, 2019, Rev. Dr. Lothar Schwabe passed away at the age of 91.
He is survived by his dear wife, Hanna; his children, Debbie (Brian) Semeniuk, Peter (Nancy) Schwabe Fry and Marcus (Lorie) Schwabe; his 10 grandchildren and 5 great grandchildren.
He was predeceased by 1 grandchild. Lothar was thankful every day for Hanna, his sweetie, the love of his life for over 64 years, his family who he inspired by his faith and generosity, his friends with whom he shared meals, sang, laughed and prayed, his calling to serve as a pastor in SK, MB, B.C. and AB as well as to teach and consult with the Alberta Government and Syncrude. Lothar lived a full life that blessed family, friends, parishioners, and strangers.
He will be forever remembered.
A memorial service will be held on July 19 at 1:00, Bethel Lutheran Church, Sherwood Park (298 Bethel Dr, Sherwood Park AB).
By request from Lothar, in lieu of donations please bring a dandelion to the memorial service.