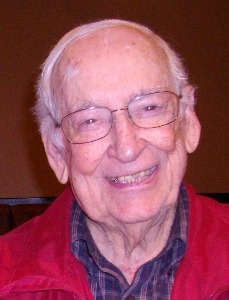 Richard Haggerty
June 24, 1931
-
May 2, 2023
My Dad, passed away peacefully Tuesday, May 2, following surgery for a hip fracture. Waiting for him was Mom (Margeurite), who passed away in 2018, along with his brothers - John (Bob), Andy, Hamish (Jimmy), Albert, and sisters - Helen and Kay. Dad was the last survivor of his immediate family.
Dad was born on the family farm in St. Bride's to parents John and Isabella Haggerty. His father passed away at a young age and Granny was left widowed. Life was difficult but the family managed together and eventually moved to Edmonton.
Dad started his career at Northwestern Utilities as a painter but thru hard work and perseverance, he retired in an office position. Throughout his career, Dad made some great friendships and many of them become lifelong buddies. The gas company had an active social calendar and Mom and Dad participated in almost every activity they had. Dad had many fond memories and lots of stories from his NUL days!
Unfortunately, Ill health forced Dad into early retirement. It was then that his niece, Shirley, so bravely donated a kidney to Dad. In March we celebrated his transplant anniversary of 27 years. Our whole family is eternally grateful to Shirley for her selfless act of love and the gift of life.
Mourning Dad's loss with me is his many nieces and nephews, along with an extended loving family. Dad was blessed to have some very special friends and I want to thank each of them for the care and attention, they showed Dad, especially in the last few months.
Although it was many years ago, we remember and thank Drs. Todd and Moore who were Dad and Shirley's skilled transplant surgeons. My sincere appreciation to Dr. Sandra Cockfield and the transplant team, for the exemplary medical guidance you provided to Dad and our family.
I am so proud of my Dad. I respected him and will miss him terribly.
As the lyrics to Dad's favorite song say:
Go rest high on that mountain
Son your work on earth is done.
May you rest in eternal peace Dad.
Love always, your daughter, Corinne.
No formal service is planned, however, a mass for Dad's intention will be held at a future date.