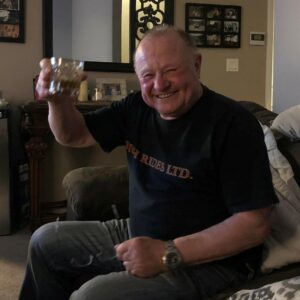 Richard Scoffom
April 12, 1945
-
September 7, 2022
Richard Scoffom was born April 12, 1945, to Charles and Clarice Scoffom in Birmingham, England. The family moved to Darlington in 1957 where he completed high school. While attending high school he eagerly worked on the Sutton Farm, which is where he developed his passion for farming. Once he finished high school, he attended Durham County School of Agriculture where he graduated from a farm business management course, which was 2 years in class followed by 1 year practical where he worked on a sheep farm in Iceland. He met 2 of his life long best friends in college - Noel Downham and Ron Swinburne.
Richard moved to Ontario in 1966 and worked on a dairy farm for a year, after which he moved to Alberta and snowshoed through the bush working on survey crews. In 1970-71, Richard went to live and work in Antarctica as a weather observer and base commander where he met two more lifelong friends; Dick Bird and Brian Hill. On his way back to Canada, he got off the boat in the Falkland Islands then proceeded to backpack across South America alone. He returned to Ontario and bought a car to drive back to Alberta. In 1974-75 he bought land and lived in an old log house warmed only by a log burning fireplace (as per Noel's recollection, the only time he ever felt warm in that house was when his fire lit the log pile!) where he originally farmed hay (let's not mention the swather 😉). He met and married Ingrid Sabo in 1976 and together they farmed sheep and pigs. During their first year of marriage, he also worked in the Arctic as a radio operator. Richard lived on his farm with Ingrid and his 2 children, Valerie (born 1978) and Marcus (born 1979) until 1989. The family moved to Gibbons, Alberta and stayed until 1995 at which time Richard moved to Nanaimo, B.C. In B.C, Richard helped Dick and Marilyn in their restaurant, The Granary, then went on to haul fish. In 2015-16, Richard commuted to Alberta working in Oil and Gas as a gravel and shunt truck driver. In B.C, he lived on a boat for most of his years until he returned to Alberta in 2019 where he settled in Morley Young Manner, Lamont.
In June, 2022 Richard was diagnosed with Stage 4 pancreatic cancer and was told he had only months to live. He embraced every moment he had left, continuing to live life to its fullest each and every day until he passed away on September 7, 2022. In fact, the day before he was admitted to hospital, he and Lyle took the day to look at a Mercedes Benz convertible which he was intending to purchase as his last toy.
Richard will be remembered by many for his "wicked sense of humor and infectious laugh" (quote by niece, Melanie Moon). He was always full of life and joy, lighting up any room he walked into and the lives of those he loved. Many people said how they loved seeing his huge smile. He was very independent and loved filling his time with various interests that he developed over the years (played rugby, performed live theatre, love of British comedy, conducted church services, working on and off-roading Land Rovers, solving the worlds problems over drinks with friends, shooting guns at the range, riding motorcycles, taking long walks, watching Itchy Boots/Long Way Around, surfing the web researching the obsession of the day, to name but a few). Richard always had something interesting on the go and was not a man to sit around and let life pass him by. He savored and enjoyed every minute! He had so much love and joy to share and was the very best Son, Dad, Grandfather, Brother and Friend anyone could hope to have. Richard was social, loved people and was kind to everyone, but wouldn't hesitate to stand up for others when injustice was occurring. As mentioned above, he made many lifelong friends – Noel and Barbara, Ron, Dick and Marilyn, Donna-Mae, Al, Des, Bryan, Sutton, Jean-Guy, Mike and Jean, Wilma, Sandy, Amanda and many more.
Richard will be missed and forever cherished by his children; Valerie Scoffom and Marcus (Kimberly) Scoffom, his grandchildren; Nevaeh, Mariah, Olivia and Briella, his sisters; Veronica (Paul) Lewis, Diana (Sandy) Muirhead, his brother; Andrew (Marie) Scoffom, nieces and nephews; Melanie (Ashley) Moon, Alexander (Amy) Smyth, Matthew (David) Smyth, Joanna (David) Lawrence, Euan (Julia) Muirhead, Allison Muirhead and Pierre Scoffom.
For anyone who would like to attend the memorial service, it will be held at the Alliance Church in Lamont, Alberta (5007 44 St.) at noon on Saturday, September 17th, 2022.