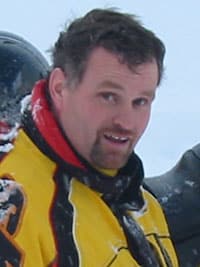 Rick Byers
On May 31st at 11:16 am in the comfort of his home and bed Rick Byers suddenly passed away.
Rick was many things from a hard worker, mentor, idol, to a friend, brother, grandfather and so many more titles. His most beloved title was husband as it one day promoted him to father. Rick always made sure to provide for his family, working with heart and soul at EC&M, Wajax and more. He started as an "Inside Salesman" paying his dues all the way up to "Branch Manager". Through his wife he discovered love, the meaning of family, to take chances, and the beauty of spending Christmas with his loved ones. There will never be enough time, paper, energy, or words to describe all Rick had accomplished, and all he had become against his odds. Rick is a leader, and led the way into the afterlife at just 52 years of age (born March 19th 1967) where he now patiently waits for his best friend, his wife, Amy Byers.
Left behind is his wife Amy; his son Cody, daughter Cheyenne; daughter-in-law Amy, his grandchildren: Bentley, April, Gunner (& counting); his brothers: Jonathan, Randy, Robert; biological Mother Jacqueline, father-in-law Bill, mother-in-law Janie, sister-in-law Tammy, brother-in-law Darren, nephew Chris, niece Katrena (Andy), great-niece Samantha, brother-in-law Tim, sister-in-law Shannon, nephew Austin, nephew Alex, aunt Lisa, niece Kaylin, nephew Brandon and numerous family and friends. He was predeceased by his step-father Dennis, his brother Keith and grandma T.
Celebration and Reflection of Life
2:00PM Saturday June 8, 2019
Trinity Funeral Home
10530-116 Street Edmonton, AB
Flowers can be sent to Trinity Funeral home located at 10530-116 St. Edmonton or a charitable donation to the Kidney Foundation of Canada.