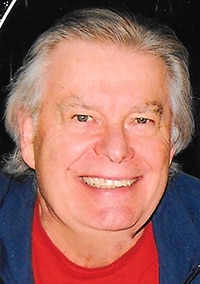 Robert Allen Brayne
October 23, 1947 – April 10, 2020
Robert Brayne, incredibly loved husband and brother passed away unexpectedly at home in Edmonton on April 10, 2020, at the age of 72 years. A deeply caring and selfless individual, whether you knew him as Robert, Rob or Bob, he was renowned for his sense of humour, kindness, generosity, love and strength.  His quick wit and infectious smile were remarkable.
Born in Sarnia ON, Bob was the eldest of two children born to Thelma (Allen) and Robert F. Brayne.   Growing up in Mooretown ON, he cherished many years boating on the St. Clair River. Bob's father worked for Bechtel Corporation which resulted in the family moving to the San Francisco Bay area while Bob was in high school during the mid-1960s. Bob later lived in Montreal, Victoria and Edmonton where, in 1980, he met the love of his life, Marla.  He had a successful career with Edmonton Transit and was recognized for 27 years of dedicated service upon retirement in 2010.
In retirement years, Bob and Marla enjoyed numerous cruises and trips to Hawaii, Europe/UK, Iceland, the Panama Canal, and Coastal North America.  Victoria, San Francisco, Palm Springs, and Jasper National Park were also a few of their favourite travel destinations. A friendly and helpful neighbour, Bob was an active volunteer for their home-owners association over the past 10 years. He and Marla supported various Edmonton sports and cultural organizations during their 38+ years together.
Bob is lovingly remembered by his wife Marla J. Daniels, sister Bonita (Gordon) Sontag, mother-in-law Mary Daniels, brother-in-law Dave (Karen) Daniels, and extended family and friends far and wide. Uncle Bob/Rob's memory will also be cherished by nieces Brandi Sontag and Marla Ann (children Hanna and Justin) Daniels and her partner Derek Martin; nephews Jerad (Rebecca, children Devon and Maxam) Daniels; Kevin (Maite, daughter Riley) Daniels; and Byron Daniels. Bob was predeceased by his parents Robert and Thelma, father-in-law Charles, and Marla's siblings: James, Gerry, and Carol.     A hui hou … until we meet again (Hawaiian)
Cremation is planned as per Bob's wishes, and a family celebration of life will be considered in the future (post pandemic). In lieu of floral tributes, memorial donations may be made to the Edmonton Symphony Orchestra https://www.winspearcentre.com/, the Varscona Theatre https://www.varsconatheatre.com/  or a charity of your choice.