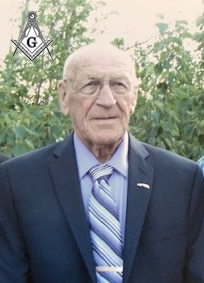 Robert (Bob) Harris
It is with the saddest hearts we announce the passing of Robert (Bob) Harris.
Bob entered the world on February 8, 1927 in Chinook, Montana in the family home which still stands today and soared away on April 14, 2020 from his home in Sherwood Park, Alberta.
Bob is survived by his wife of 65 years, Vi (Just) and five children. Gail (Keith) Sherwood Park, Kimberley (Derek) Prince George BC, Greg (Wendy) Ghost Lake AB, Garth (Tracy) Castlegar BC and Roger in Vernon BC. Bob is as well survived by 9 grandchildren, Jacob, Nathaniel (Rylee), Sabrina (Ryan), Chantal (Mike), Brandan (Laura), Samantha, Danielle (Devon), Rebecca and Liam and by 10 great grandchildren, Paislee, Brixon, Greyson, Lennix, Austyn, Preston, Capri, Beau, Isabella and Avery. Bob is further survived by our extended family Jazmine (Tarik), Myah, Ella, Brandy (Brandon), Gaige, Amber (Dalton), Conor and Lynn (Falardeau) Harris. Bob's brother Bruce, sisters Shirley, Joyce, Faye and Peanut his furry four legged companion also survive him.
Bob's passions were his family, woodworking, cars, long walks with Peanut and flying planes. Bob was a Mason with Empire Lodge #63.
Bob came to Canada at the age of three and lived on a homestead in Rangeland near Beaver Crossing Alberta. Bob lived through the depression and the war years helping with the farm and raising his younger brothers and sisters. Times were tough however the many experiences shaped Bob into the man he became and was.
Bob was a man true to himself and lived his life to those morals. Bob enjoyed a good "story" and many a laugh was had with his telling. Dad is our hero.
Bob was a Greyhound bus driver and was retired the last 30 years. Bob started with Sunburst in 1953, then Coachways and Greyhound. Bob had over 3 million safe driving miles under his belt on his retirement and many hilarious and at times courageous memories. Babies being born on the bus, massive snow storms with military members digging him out and miles of gravel roads.
In retirement Bob and Vi worked with many dealerships in Alberta delivering vehicles and along the way made many lasting relationships and friends.
Bob was predeceased by his parents LeRoy and Amy, siblings Lorraine, Quinton, Jack, Pat, Norma and Bill.
Due to COVID 19 a Celebration of Life will be held at a later time.
Should you choose to make a donation in Bob's name the family would like them to go to the Canadian Mental Health Association – Alberta Division, Edmonton SPCA or the Canadian Cancer Society – Alberta Division.