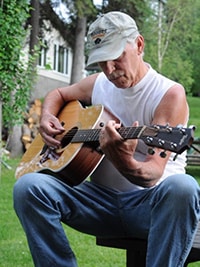 Robert (Bob) Vincent Billingsley
Robert Vincent Billingsley of Darwell, Alberta was born in Halifax, Nova Scotia on April 14, 1945. He passed away peacefully in his home on Thursday, September 27, 2018  at the age of 73.. The world has lost an extraordinary man. He was the patriarch of his family and always a pillar of strength to those who knew him. Our Dad's father passed away at the young age of 41 and left his mother with eight young children. Although he was only 13 years old himself, family responsibilities weighed heavily on his shoulders. By the time Dad was 21, he had three kids of his own. Music, although a huge part of Dad's life, played second to family and due to circumstances, Dad's musical career never came to fruition.
Dad lived an extraordinary life and was passionate about what he believed in. He loved to sit down with anybody and would talk about anything and everything. He was a man of great integrity and loyalty. Most importantly he valued honorability, not only just in himself, but in others. If we could write a novel about Dad's life, it would be an amazing story that would captivate you from beginning to end. His rare and uncanny ability to recollect the events in his life with such clarity starting from the age of two years old made him so unique and coined the term "The Steel Trap". Family and friends alike loved to listen to the incredible stories of Dad's life. The good, the bad and the ugly. Dad would always say "you can't make this stuff up!"
Dad always made a point of letting the people in his life know how much they were loved. He was very passionate about his beliefs and stories and enjoyed sitting down with you to have a coffee and listen to you "gum it up". He was remarkable and those that knew and loved him for the genuine man he was felt blessed to love him so deeply. His arms were always open to give you a warm, sincere and comforting hug whenever you needed it. He was the type of man who hugged you daily and made certain you knew that you were truly loved by him.
Dad's siblings had unique talents and excelled in their abilities. Dad's gift to the world was music. His heartfelt songs and his love of music have been woven into the fibers of our being. Dad's songs had the ability to bring a whole audience of women to tears. Dad said to us: "If I'm doing it right, they will feel what I feel." "You will know me, just by listening to my songs. They will know my heart; they will know what I feel." …… and feel we do! Our whole lives have been touched in a truly positive way. His release from this physical life leaves an enormous void and he took a piece of each of our tattered hearts with him. He will live on in us forever, because that is what our hearts know, draw comfort from and what our souls need to soften the edges of our unrelenting grief.
Our lives have been touched in a truly positive way. We know dad will live on through his music, his stories, his humor, but more importantly through the love he instilled in our family. We want the world to know that dad was our anchor, our braveheart, our soft hearted hero and the strongest man we knew for a multitude of reasons. He was not just our steel trap, but also our family psychologist, political informant, fruit tree activist, professional lotto ticket scratcher and revered minion tribe leader.
Dad's long list of departed angels include his dad, John Edward Billingsley; his mom Frances Helen (Williams) Billingsley; mother-in-law Kay Evans; two sisters Tisha and Jackie; three brothers Dewey, Teddy and John; three brothers-in-law Harvey, Pete and Frank and the love of his life and the rose of his heart, Barbara Darlene (Evans) Billingsley.
The sweet love of Bob will live on through his four daughters: Sheila McIsaac and her 3 children (Leah/Nick, Levi/Jenna & Catlyn/Jake); Kathy Gartner/Jim Yip and her 4 children (Jack/Lisette, Jill/Alec, Sara & Teddi); Bobbi/Mike Lepine and their 4 children ( Kayla/Dave, Cortnie/Mat, Taylor/Kait & Jessie/Bryanna); Tamara Billingsley/Shaun and her 3 children (Brandon, Logan & Charlee); 4 Great-grandchildren (Dominic, Julia, Lyla & Benjamin): 2 brothers; Ron (Marilyn) and Charlie; numerous nieces, nephews and extended family. He will also be forever remembered and cherished by Pam; Alisa & Mike and girls and all the many special minions that became an integral part of his world.
Dad, we get it! To us heart break is not a weakness, but actually a testament to the great power of love and how deep it cuts with loss of life. You are right Dad, "A Million Tears Will Fall" because you are so loved. The collective sorrow that our family has endured made us acutely aware to leave nothing unsaid and we didn't.
Even though he has left us here, we know we will still hear his soft sweet whisper of "Who loves you?" and "I love you more".
"A loving heart that gives a lot
Has proven you
Forget Me Not;
Your love is the key that will
Preserve my memory"
Please clink on the link below to hear a song Dad wrote for Mom: