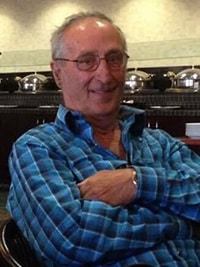 Robert Chauvette
April 26, 1941 - February 24, 2018
Robert Arthur Chauvette died peacefully on February 24, 2018, at the Royal Alexandra hospital in Edmonton, Alberta at the age of 76 years after a brief, but courageous, battle with cancer.
Robert passed away surrounded by family. He will be sadly missed by his wife Vivian; children Carol (Ervin) Strap, Norm (Donna) Chauvette and Michel (Brenda) Chauvette; grandchildren Ryan, Kyle, Mark, Nicole and Stephen (Kahylin); step grandchildren Devon and Kyle; step great grandchildren, Juliet, Brianna and Lionel; siblings Marguerite Clark, Juliette D'ambrosio, Maurice (Barbara) Chauvette, and Susan (Gerald) Nolan; and many nieces, nephews and cousins. Robert was predeceased by his parents Albert and Victoria Chauvette and brother Roger Chauvette.
Robert was born on April 26, 1941 in High Prairie, Alberta to Albert and Victoria Chauvette. He married his soul mate Vivian Boisvert on October 12, 1962.
Robert grew up on the family farm just south of Donnelly, in northern Alberta. At the age of 18, he acquired his first half section of land which was full of bush, and that began his first true calling in life, a farmer working the land. He joined forces with his two brothers Roger and Maurice, and together (Chauvette Brothers) acquired more land, acquired land clearing equipment, and forged ahead as early entrepreneurs and farmers. After several years, Robert took over the family farm and land clearing business, raised his family with his values of hard work, a zest for life and family, and a love of sports. He farmed for over 20 years and eventually moved to the Edmonton area with his entrepreneurial spirit in tow, where he started a trucking / logging / gravel hauling business, and eventually a roofing contracting business. Robert was never a stranger to hard work, and never shied away from any challenge. Robert enjoyed playing baseball with the Donnelly Cubs as a pitcher, travelling the world with his wife Vivian, and camping with their extended family at Lake Isle for over 30 years. Robert also had a passion for curling, with a highlight being when he won a gold medal at the National Blind Curling Championships in Ottawa as a coach.
The family would like to thank all who visited with Robert and all those that offered their prayers and support in his final days. They would also like to thank the nurses and doctors at the Royal Alexandra hospital for their quality care and kindness.
Celebration of Life
1 p.m. to 6 p.m. Sunday April 29, 2018
Jasper Place Legion
10427 - 174 Street Edmonton, AB
Memorial Donations
Alberta Cancer Foundation, Cross Cancer Institute
11560 University Avenue NW, Edmonton, AB T6G 1Z2