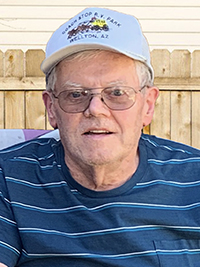 Robert Harold Richardson
Passed Away
October 13, 2021
Robert Harold Richardson, 79, of St. Albert passed away on October 13 2021 from complications of Alzheimer's disease.
Bob grew up in St. Albert and graduated from NAIT as a denturist in 1966. At NAIT he met Dianne, his wife of 55 years. Soon after, he opened Richardson Denture Clinic in Vermilion where they lived for 27 years with daughters, Shawna and Dayna. During his time as a denturist and business owner he mentored and trained many successful denturist students.
Bob was very involved in the denturist community. Serving as president of the Alberta Denturist Association as well as being on the Federal association board. He also served on the examining board to qualify new denturists. Bob was the first denturist to be awarded the Award of Merit from the Alberta Denturist association. Bob donated his time and expertise on multiple dental missions in Central and South America over the years.
Bob was always busy with different organizations in Vermilion, Kinsmen, Curling Club, United Church, Chamber of Commerce, Rotary to name a few. Bob was also a wonderful family man. He loved spending weekends at the lake in the summer with his family and friends. He looked forward to fishing and hunting trips every year with his buddies.
After selling the denture clinic in Vermilion he and Dianne moved to St. Albert where Bob started instructing at NAIT. After several years Bob retired in 2003. Once retired he had time to pursue his hobbies of furniture building and wood carving. At this point he also enjoyed being grandpa to his 4 grandchildren.
Bob was predeceased by parents Dan and Agnes Richardson and sister-in-law Beryle. He is survived by wife, Dianne, daughters Shawna (Tim) Hawkins and Dayna (Kerry) Kineshanko. Grandchildren Graham Kineshanko, Everett Kineshanko, Elias Hawkins and Donovan Hawkins. Brother Fred, sister Kathleen, nieces and nephews.
To honour Bob's wishes there will be no funeral service. In lieu of flowers consider making donations to Pacific Alzheimer's Research Foundation (parf.ca).