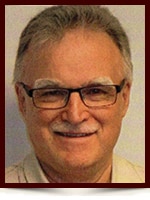 Robert James Gillis
1950 - 2016
Adieu, notre cher Robert... A Dieu...
Peacefully, our beloved Bob completed his earthly journey on Saturday, 2 April, 2016. Robert was predeceased by his loving parents and by faithful feline, Cleo. To cherish his memory, he leaves his brother John and extended family, along with his parents-in-law, brother-in-law and family, wife Valerie, son Warren James and by sweet feline, Koko.
We shall greatly miss: 'Our-Expert-of-The-Crossword-Puzzle'; Bob's love for the music of Roy Orbison and of André Rieu; the many culinary delights of 'Chef-Bob-Ardi'; Bob's passion for structural integrity, witnessed in developments throughout our city and province; Bob's life-long enthusiasm for cars; Bob's vast repertoire of jokes and his uncanny recollection for the most obscure of lyrics and poetry.
It is said, "It takes a village to raise a child." We may also say, one's departure to the next realm is assisted with the attentiveness of the village. At every twist and turn in Bob's year of tectonic health, he encountered 'The-Best-of-The-Best' in 'the village's' medical community. For their devotion to the practice of medicine and for their unsparing compassion and wisdom, our family expresses deep gratitude to Dr. Patti Alexander, Dr. Peter Bell, Dr. Sarah Burton MacLeod, Dr. Robin Fainsinger, Dr. Shaheed Merani, Dr. Noush Mirhosseini, Dr. Andrew Scarfe, Dr. Isabelle Vonder Muhll, Dr. Kim Watson and to Dr. James Shapiro. Due to Dr. James Shap-Hero's impressive surgical expertise, precious time was awarded to Bob's life.
Our appreciation extends to the many wonderful, intuitive nurses involved in Bob's care at U. of A. Hospital and at Cross Cancer Hospital, with special mention to Dr. Sarah Burton MacLeod and to e-a-c-h of her exceptional Nightingales in Palliative Care, Unit 43, Grey Nuns Community Hospital.
Bob and family are forever thankful to friends and neighbours for their on-going support and acts of kindness; colleague and friend of many decades, Ed Rasko; the Staff of AECOM and Chris Gentile; mentor and friend of many decades, Ian Muir. These fine people gave much of themselves, adding quality of life to Bob's last year.
In accordance with Robert's final wishes, Cremation has taken place. Please join us on Saturday, April 23, 2016 from 2:00 p.m.-5:00 p.m., for an Open-House Celebration- of-Life at Trinity Funeral Home, 105 avenue and 116 street, Edmonton. Luncheon. Casual wear encouraged.
Floral tributes are gratefully declined as a certain Koko-the-Kat has dedicated her life to the pursuit of Petal-Origami, Leaf-Weaving, Dirt-Excavation.
Our dear Bob wished to be remembered for having urged us all to:
*Please donate to your local blood bank. *
On an Angel's Wings you were taken
But in our hearts you'll stay
And in God's Light you will  rest
Until we meet again one day...
~ Heaven's Embrace ~
Your long, courageous struggle has come to an end...
We love you, dear Bob.
Rest in Peace, dear Dad. -