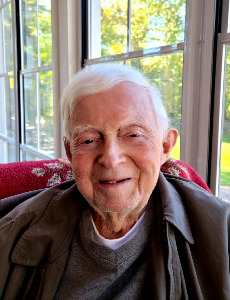 Robert James Robbins
August 25, 1928
-
December 17, 2022
Robert James Robbins –August 25, 1928, to December 17, 2022.
Robert James is survived by his wife Phyllis, and his children Sally (Chris), Rachel (Murray), and Steve, also his sister Marlene (Ron), and his nephews and nieces, Robbin (Linda), Ronalee (Andy), Loriann (Dave), and Owen. Bob was predeceased by his parents Clyde and Mildred "Minnie" and his little brother Lorne, who passed away at the tender age of 5 years old in January 1936. To date, Bob was the longest living member of his family and relatives.
Robert's, or "Bob" as many knew him, grandparents emigrated from Nebraska, USA to Canada and settled in Red Deer, Alberta. He was born in Red Deer on Saturday, August 25, 1928. Later, his mother and father moved to Hardisty, Alberta, where his father opened up a barbershop/pool room. This is where young Bobby would spend most of his days as a youth. Helping his father out with chores, sweeping up floors and brushing pool tables, and when time permitted, getting in a game or two of pool. After graduating from high school, he moved to Edmonton to live with his grandparents and entered the University of Alberta, Faculty of Pharmacy. During the summers he played baseball and in 1951 he played outfield for the Delisle Gems in the Northern Saskatchewan League, and in 1952 for the Carter Pontiacs in the Edmonton City League. He was offered an opportunity to play for an American team but declined so he could complete his University degree and pursue his pharmacy career.
In addition to baseball, he was an avid golfer. He played in many tournaments winning numerous trophies, and played on many courses in Canada as well as in the United States including Pebble Beach, California and Palm Beach, Florida. He was a member of the Mayfair Golf & Country Club and later the Highlands Golf Club where he golfed well into his retirement years.
He graduated Pharmacy in 1953, apprenticed for about 3 years and then began working for Hardin's Drugs in 1958. It was during this time that he met "the love of his life" Phyllis. They married in November 1961 and began raising their family.
He joined the Shoppers Drug Mart chain as a franchise owner, first at the location on Whyte Avenue then later at Heritage Mall where he worked until he retired in 1993.
He also had a passion for photography. He took countless movies and photos of his family over the years at sporting events, birthday celebrations, holidays and other family gatherings.
Every year he took his family on numerous road-trip vacations including trips throughout Alberta, British Columbia, and even a motor home trip to Montana, Wyoming and Idaho, providing countless memories of adventures!
He was a loving, caring, giving and dedicated father to his family. He instilled in his children a sense of integrity and pride, as well as a desire to work hard and to never give up on what you want to accomplish in life. He was also a devoted son to his father, Clyde and his mother, Mildred "Minnie". He had a love and fondness for both his parents, but especially for his mother that he often expressed to his children whenever he spoke of her as he shared his childhood memories.
Among countless fond childhood memories, one stands out which demonstrates his kind, giving spirit. One evening he was at a gas station not far from home. He was approached by a 'stranger' asking him for directions to the Mayfield Inn. Instead of simply giving the man directions, he escorted him there! The 'stranger' ended up being George Savalas, brother of Telly Savalas, a well known actor of the time! George Savalas was starring in a show at the Mayfield Dinner Theatre. He of course did not give George his name or any information, but after publishing a story in the Edmonton Journal about the good samaritan act, someone let them know it was our Dad and due to his act of kindness, George gifted our family with tickets to the show! It was an evening his family would never forget.
Over the years Bob and Phyllis had many family pets, but it was their last dog, Annie, who was a faithful companion for 14 years. He and Annie were well-known fixtures in the community on their daily walks. To this day when any of us are out walking, residents in the neighborhood still remark about Bob and Annie.
His eldest daughter Sally, recounts and will cherish her fond memories of her 'Papa', his devotion to their family and his unwavering love and support. She will always especially remember countless weekend visits to join her 'Papa' and Annie on walks with her little dog Abby. Her more recent fond memories will be of her trip to Edmonton in November and daily visits to see her Papa when they shared some laughs and special moments.
His daughter Rachel says that most of all what will stick with her is the love that he had for our mother. He loved and cherished her. He lived his life doing what he could to make her feel happy, safe and cared for. Mom and Dad shared 61 years of marriage, and through those years, his love and concern for her never faltered. To his very end days, he referred to her as "the love of my life". Also, her happiest memories more recently were sitting quietly by his side, holding his hand, watching golf and looking at old photos together. This always brought a smile to his face. This somehow brought her closer to him as the end of his journey approached.
His son Steve has nothing but the happiest of memories and will forever remember the time spent with him. From Sunday bike rides to Lendrum and many rounds of golf, to enjoying time spent together at Driller, Trapper and Oilers games. The one thing that is forever etched in Steve's memory is his father's steadfast love, patience and support through the hardest and most difficult of times, and there were plenty of those!
He also had a no-nonsense, witty nature! This stood out one day years back when he was out on the golf course with Rachel and Steve. When it was Rachel's turn to tee-off she was desperately trying, but whiffed the ball about 3 times and finally he exclaimed, "For God's sake, hit the bloody ball!!" Being proficient at golf himself, she figures he had little tolerance for this ineptness. Needless to say, that was Rachel's last attempt at golf, not her forte!
His son Steve recalls how his witty nature continued up to his last days. Steve was visiting him and was struggling to understand something dad was trying to say to him. Steve responded, but clearly not what he was expecting, causing him to wrinkle up his face and exclaim "for crying out loud, you need to get a hearing aid!".
While no words can fully illustrate how we feel about him, we are all very proud and truly honored to have had him as a husband and father. His memory will live on as we each carry him along in our hearts.
Phyllis wants to express her love and gratitude to her children, Sally, Rachel and Steve for the love and care they gave their father, especially during the past 5 years. And also for the love and support they have given her during these difficult times.