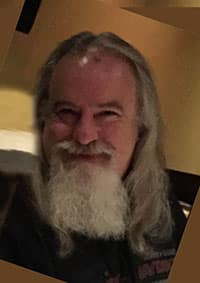 Robert "Rob" Gibbon
Robert "Rob" Gibbon, age 56, passed away at the Grey Nuns Hospital in Edmonton, surrounded by his family on Friday, April 12th, 2019.
He was born on August 25th, 1962 in Edmonton, Alberta to Robert "Bob" Gibbon and Gloria (Edgar) Tetreault. He met his "Angel" Heather in 1994 and after 17 years together they were married on March 10th, 2012. Rob truly lived life to the fullest through simple pleasures; riding his Harley, listening to music, watching sports, vacationing in Mexico and sharing stories with his friends and family. He also loved his Crown Royal and savouring a glass of fine Tequila. Rob had the ability to talk to anyone and he loved telling a good joke and making everyone laugh.
Rob is survived by his loving wife: Heather; sons: Robert (Carina), Garrett and Jamie; daughters: Levis (Luke) and Erin (Brett) and grandchildren: Lucas, Lexi, Olivia and Zachary. He also leaves to mourn his loss, his parents: Gloria (Vic) and Bob (Carol) along with his siblings: Mark and Chris (Kimberly); as well as many close friends and extended family.
Family, friends, and others whose lives Rob touched, are invited to Trinity Funeral Home, 10530 116 St NW, Edmonton, AB at 2:00 pm on Friday, April 26th, 2019 for a Celebration of Life.
"Four wheels move the body. Two wheels move the soul."
"Death leaves a heartache no one can heal, love leaves a memory no one can steal."