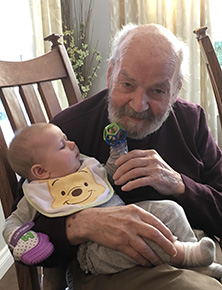 Rodney (Rod) K. Larsen
Rodney (Rod) K. Larsen passed away on July 3, 2020.
He is survived by his sons Christopher, Kenneth, Roy, Roy's wife Joni (nee Grapko) and their daughter Kaeli; Doreen Larsen (sister-in-law); Joanne and Gerry Blomly (sister-in-law and brother-in-law) and his nieces and nephews. He is also survived by relatives in Norway.
He was predeceased by his wife Merle (nee Brown), his parents Daniel and Ingeborg (Inga) (nee Pedersen) who were both born in Norway - Alesund and Arendal respectively; his brother Danny and numerous aunts, uncles and other relatives in Norway.
After World War II, the family moved from his birthplace Prince Rupert, British Columbia (B.C.) to the Dunbar area of Vancouver, B.C.. Before very long, Rod had newspaper routes (The Province and the Herald), then worked to deliver and sell produce for a "green" grocer and later a pharmacy. As he got older, various sports filled his time: English rugby, basketball (three championship teams; two school day leagues and one commercial night league, which was provincial in nature). At Lord Byng High School, he was a member of the school council---boys sports representative, assistant treasurer and treasurer of the school's 1,500 student body. In addition, he was the school newspaper sports editor.
Post high school, he like his older brother, attended the University of British Columbia where both graduated in their own fields. Rod graduated with a degree in Business.
Rod started working with Texaco and was with them until 1963. He then joined Eaton's as a Division Manager in Wage and Safety Administration, later as personnel manager.  In the interim, Rod and Merle got married (March 26, 1964) and later that year Chris was born. A promotion from Eaton's moved the family to Calgary and in 1966 Ken was born. January of 1969 saw the family move north on Highway 2 to Edmonton.  Rod was now Director of Manpower and Director of Staff Services at the University of Alberta (U of A) Hospital. Shortly after settling in, both Rod and Merle got involved with the Edmonton Federation of Community Leagues and their annual Ice Shows. 1976 turned out to be eventful - Roy was born and Rod joined GWG Ltd as Corporate Director of Personnel and Administration. A few years later, Rod would start his own company named Romel.  As a great deal of previous work involved labour negotiations, Romel was a labour relations consulting firm.  In addition, in 1987 he spent two years with the Alberta Hospital Association as VP Employee Relations, Benefits and Information Services. Later he worked with the United Way and also began teaching at the U of A Faculty of Extension for a labour relations course. Following this, he started his own retail shop: Sweaters 'N' More.
His life was spent mostly with family and friends sharing good and bad times. He spent numerous hours golfing and supporting the kids with their sports as well. He was also an active member of the Scandinavian Businessmen's Club.
Merle passed away in 1998 and a few years later, Rod closed the store to retire and spend more time at home. Well after he had retired, Rod developed abdominal cancer and his life was saved by Dr. David Olson, surgical team and nursing staff at the Misericordia Hospital.  Following this, he was told that he could only expect to live for another six months to two years.  Well, true to his nature, he surpassed that.  He beat the odds and made it nine years more…including meeting his only granddaughter. However, other health concerns cropped up.  Rod never lost his love of jazz, sports, good food (especially sweets), dogs, family, friends and a good laugh.
Cremation has taken place and, as per his wishes, there will be no service.  His remains will be taken to B.C. at a later date.  In lieu of flowers, please donate to the Edmonton Humane Society.
Just to note, the first section was written by Rod himself, and the family wrote the back half.