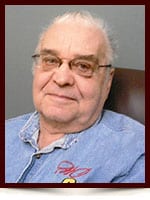 Roger Piontek
PIONTEK, ROGER
It is with great sadness that we announce the sudden passing of our brother, uncle and great uncle Roger. He was born in Amesbury, AB on Nov 26, 1943 and passed away Mar 24, 2016 in Barrhead, AB. He is survived by his brother George (Noella), sisters Marge Chemerys (Alex Eskiw), Betty Lega (Lawrence), and Irene Cox (James), nieces and nephews Michael (Luisa), Maureen (Tom), Melanie (David), Matthew (Nadine), Glenn, Jeremy, Mark, Amy and Ryan and 15 grand nieces and nephews. Predeceased by his mother and father Lena and Walter Piontek.
Memorial Service
Friday, April 29th 1:00 pm
Breynat Hall, Breynat Alberta
Interment at St. Elias Cemetery in Wandering River, AB.