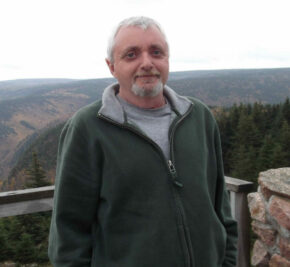 Roland Gammon
September 7, 1962
-
August 12, 2022
(Roland) Gary Gammon passed away on Friday August 12, 2022 at the Royal Alexandra Hospital in Edmonton, Alberta, at the age of 59 years, three weeks shy of his 60th birthday (September 7).
He passed away peacefully with his beloved wife by his side.
Gary was born in Pictou, Nova Scotia to father Jack Charles Gammon and mother Elizabeth Mary (Barnard) Gammon. Gary was the second youngest of 5 children; Russel, Doug (Isabel), Gayle (David) and his predeceased sister Janice and many nieces and nephews.
Gary is survived by his devoted wife of 37 years, Sherri-Lynn McNutt, her first born son Andrew McNutt, and their children together; son Jack and daughter Kimberly.
Gary was a heavy equipment operator and a car enthusiast. He had many classic cars through the years and was always fixing up the neighbourhood guys' vehicles. He loved snowmobiling with his friend of many years, Mike Cross and all the guys that went together. Restoring cars and selling them, boating with his family, and car shows were what he enjoyed most. He was working on his last project car, a 1975 Oldsmobile Cutlass, which he got to take to his last car show recently with his daughter Kimberly.
Gary was a cancer survivor and spent the last few years of his life fighting to get better so he could move home for his 60th birthday and enjoy his days near family and friends in Nova Scotia with his wife Sherri.
Anyone who knew him would tell you he was a strong willed, stubborn man that was going to fight to the very end to survive.
The family would like to extend our sincerest gratitude to the wonderful staff in the ICU at the Royal Alexandra Hospital for doing everything they could to save him and for making him comfortable at the end.
A celebration of his life will be held at Miquelon Lake for close family and friends with a later celebration to be held in Nova Scotia.
He will be greatly missed by his family and by so many others who knew and loved him.
In lieu of flowers, memorial donations may be made in Roland's name to the charity of one's choice.