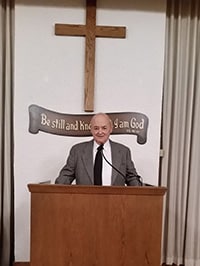 Rolf Herman Koenig
June 20, 1934 – April 02, 2018
On Easter Monday April 2, 2018, surrounded by his loving family,  Rolf Koenig, a precious husband, dad, Opa, Great Opa, brother and friend,  walked out of his worn out earthly body and stepped into a brand new one.
Rolf was a man of deep spiritual conviction and took servitude to a level that would be hard to surpass.  Quiet and unassuming,   but uncompromising when it came to truth, integrity and honesty, Rolf rarely spoke about his role as a leader of a small congregation or about times that he would go way out of his way to assist and/or pray for somebody.  He was a prayer warrior and when he prayed we knew God was going to answer.
Fiercely loyal and proud  of his wife and children,  Rolf never wavered  in his role as the leader of his home.  He laughed a lot, loved to tease his wife / kids and though he was not rich in earthly goods he always found a way to surprise them by taking them on holidays, buying them gifts and ensuring that EVERYBODY ate well at his table.
Rolf's life left a big hole in the fabric of his family and many, many other's lives when he stepped away, but that hole holds thousands of memories that many will recall for many years to come.
Rolf leaves behind a precious wife, Hilde Koenig (nee Klar), three daughters, Ruth, Esther( Dave) and Lydia (David) and four sons David (Mary), Daniel (Rhonda), Dallas (Michelle) and Jonathan , his precious sister's Brunhilda ( Alex), Helga (Rudi), brother Manfred ( Christa)along with many nephews and nieces.
He will also be dearly missed by his eighteen  grandchildren and   10 great grandchildren.
We are looking forward to that most glorious day when we will be reunited to spend eternity together.  Come soon Lord Jesus!
Public Visitation
Saturday April 14, 2018 12:00PM
End Time  Message Tabernacle
9200 156 Street, Edmonton AB.
Funeral Service
Saturday April 14, 2018 1:00PM
End Time Message Tabernacle
9200 156 Street, Edmonton AB