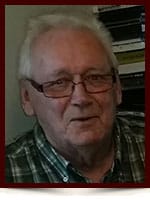 Ron Headrick
Peacefully and Suddenly on Friday April 29, 2016 dad passed away at his home in Edmonton, Alberta age 85 years young. He was predeceased by his parents Gleason and Kathryn, siblings, Evelyn, Emma, Annie and Kenneth.
Left to cherish his memory are his children Kevin(Barb) Headrick, Blair Headrick, & Carmen (Shawn) Tower. Grandchildren, Tara, Devin, , Juliette and Amelia, and 2 great grandchildren Karlie and Khloe. Siblings Melvin Headrick, Vivian (Alvin) Broulette, as well as many nieces, nephews, friends and coffee buddies.
Dad was born on October 21st 1930 in Shellbrook, SK. He was born on the family farm working with the family working with the family farming till he was 16. After his 16th birthday dad and his cousin Roy Bichler and brother Ken jumped the train to Ontario in a mill for work. Another time dad and again his cousin Roy went to BC to find work, but the story was they left there because the misquitoes were too thick. Another story was that he and Roy went to BC to and had a hard time finding work, so no money, hungry, ate tons of apples from the apple orchard. Dad also worked for a time in the gold mines up in the Yukon.
Dad met Vera in Lumby BC where he was supposed to work work in the mill but fate had its way and he landed a job at Kal Tire with Tommy Ford..the founder of Kal Tire.
Mom and dad got married in 1957 and had 3 kids, kevin, blair and Carmen.
Dad spent most of his life in the tire industry with a short stint working for the kneehill of Three hills, Alberta.
Dad was always a good provider for his children, always making sure we were ok with an almost weekly phonecall. Many hours at the coffee shop were spent shooting the breeze with his coffee buddies in the later years. Dad had a great sense of humour always enjoying a good joke.
In his early years he played rythim guitar for a band called the corn huskers and he said it pays for the groceries.
Kal tire finally made dad retire at 82 he was a hardworker to the end of his working carreer..very dedicated and well liked as many of his co-workers called him Grandpa.
He enjoyed many visit to Manitoba to visit his daughter and granddaughters and over the last 15 years papa Ron came to visit, he enjoyed sitting outside near the wheat field watching the crop dusters and trains go by, always enjoying the spoiles of his daughters garden and often making room in his suitcase to take some home with him.
Dad loved food especially bung balogne and german strudles made at kevins house and the family would come over. To dad it was good eatin
We love you dad..you will forever be missed.
Come and Go tea will be held on Thursday May 6, 2016 at the St Albert Inn from 2-4 pm, come and join us help celebrate dad's life.