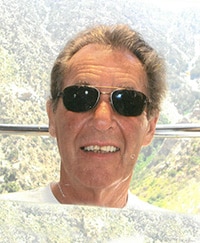 Ronald Edward Burgess
It is with extreme sadness and a very heavy heart I would like to share with all who knew and loved him, the sudden passing of my darling Ron who passed away on Feb 1, 2018 at 6:45am from complications of MDS.
Ron was always a very healthy, active man. Always busy and usually running. His job as a courier was good for him, allowing him to run! He also loved playing in a band and was with one band or another for over 52 years. He played bass and played in a country music band or in a rock and roll band, he loved both. Besides guitar Ron also played violin and mandolin. He was also an amazing country dancer and we would go dancing often Ron also loved sports and he himself played baseball till he was 54 yrs. He loved going to the Oiler games.
His favourite thing of all was to go to Mexico and lay in the sun with a cigarette and a beer. He was so happy! We would have a contest to see who had the darkest tan, he would lay in the sun for hours.
Ron was healthy for 70 years and after his 70th Bday, 1 year ago this strong, healthy wonderful man was diagnosed with MDS Leukemia.
He had to stop drinking and smoking, no energy for dancing or singing. We were very upset, but we got used to a slower life and it was ok. Ron shouldered thru all the transfusions, chemo and numerous tests. But this Jan 12, all that changed and the disease took a turn for the worse. We talked about the inevitable but did not imagine it would be so soon.
The last 3 weeks were a struggle for Ron, he went to the Cross Cancer for only 2 days and he passed away peacefully. Much too soon for the ones he left behind.
Ron leaves behind his life partner Maryann, his daughter Sabine (Trevor), his son Malcolm (Danica), his sister Marlene(Norman), nephew Darcy. Also a very large extended family too numerous to mention
Also Paul(Lillian) who was like a brother to him and Ryan.
Ron was predeceased by his father Gordon, mother Bertha, brother Norm, and niece Shantall , Sherri who was like a sister, and numerous aunts, uncles and cousins and numerous near and dear friends.
We would like to thank Dr Brandwein, for all his great care this past year and the nurses on Station 31 at the Cross Cancer for their gentle care of my sweet Ron.
Ron was liked by everyone who met him. His kind, gentle nature was hard to resist. To all who knew Ron, he always valued your friendships.
Rest well my darling and play your songs in Heaven. I miss you so much and will always love you.. You will always be in my heart.
As per Ron's request, he will be cremated, and there will be no funeral.